Michael Laub / Remote Control Productions
pigg in hell (2000)
PHOTOGRAPHY / CREDITS / PRESS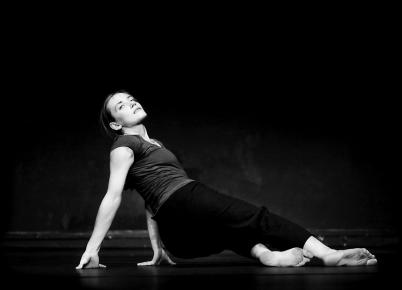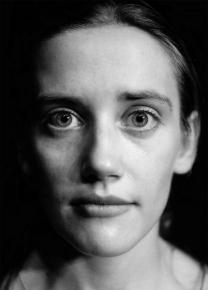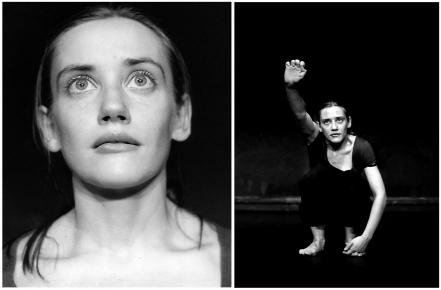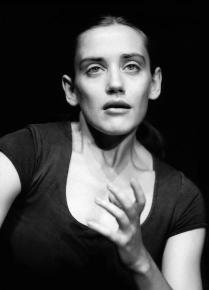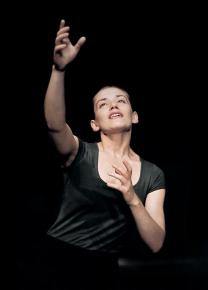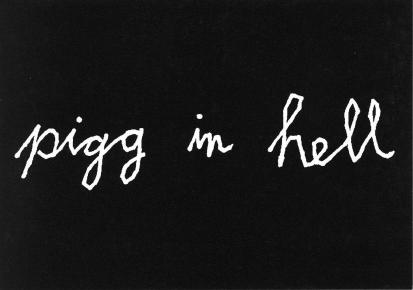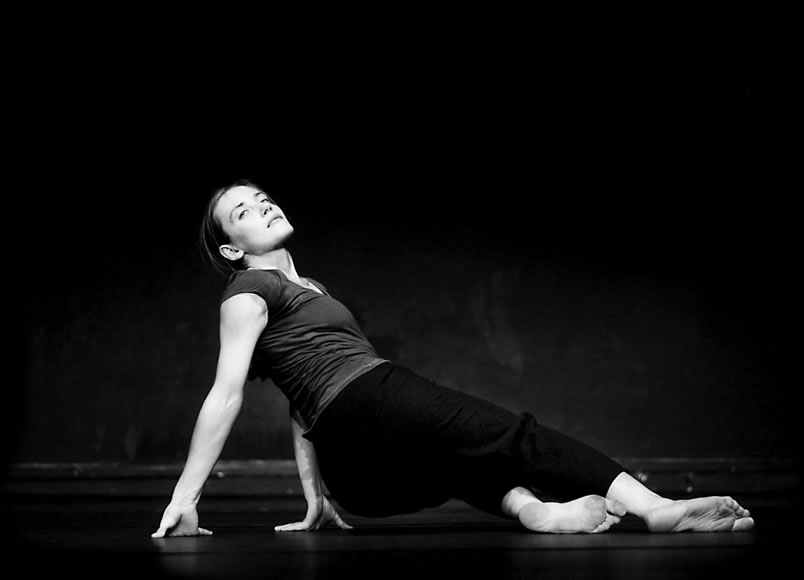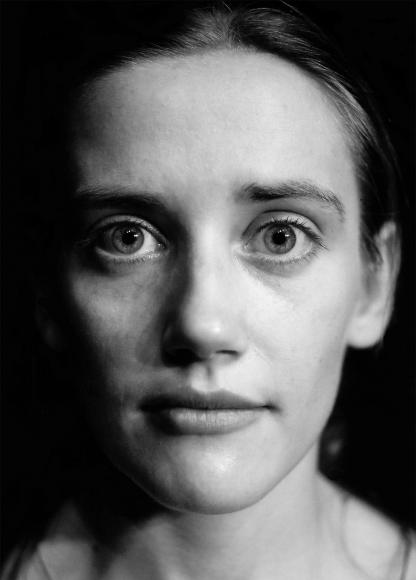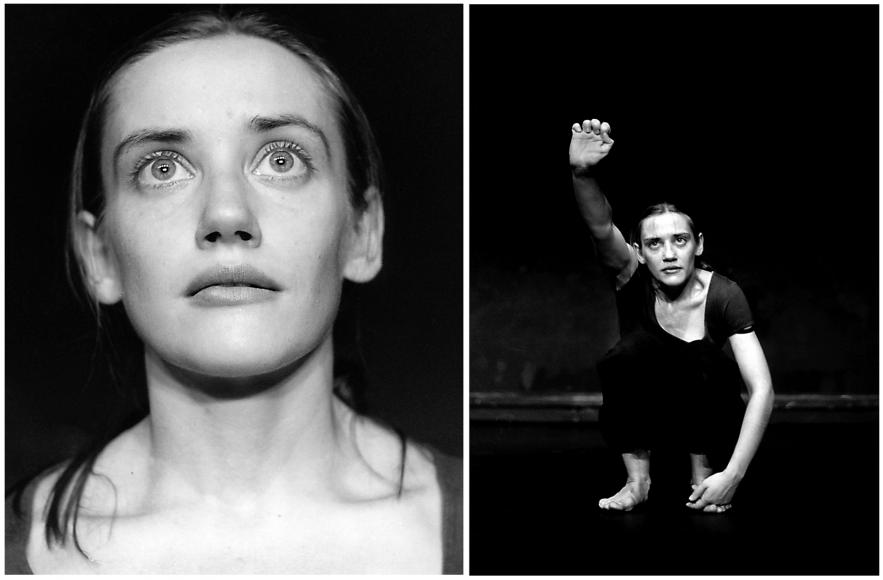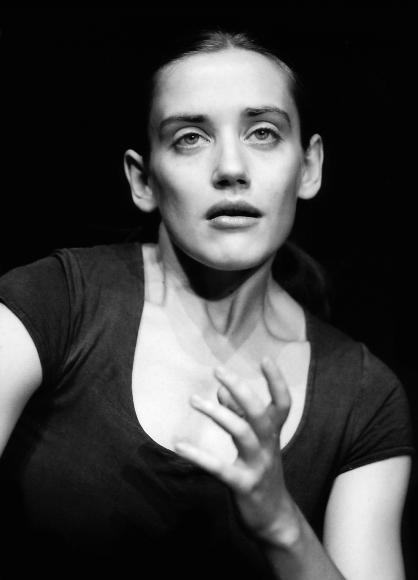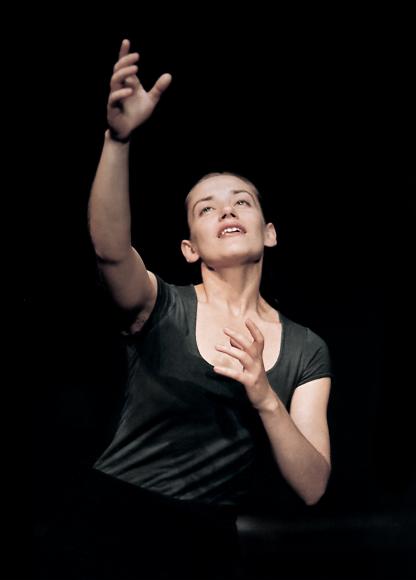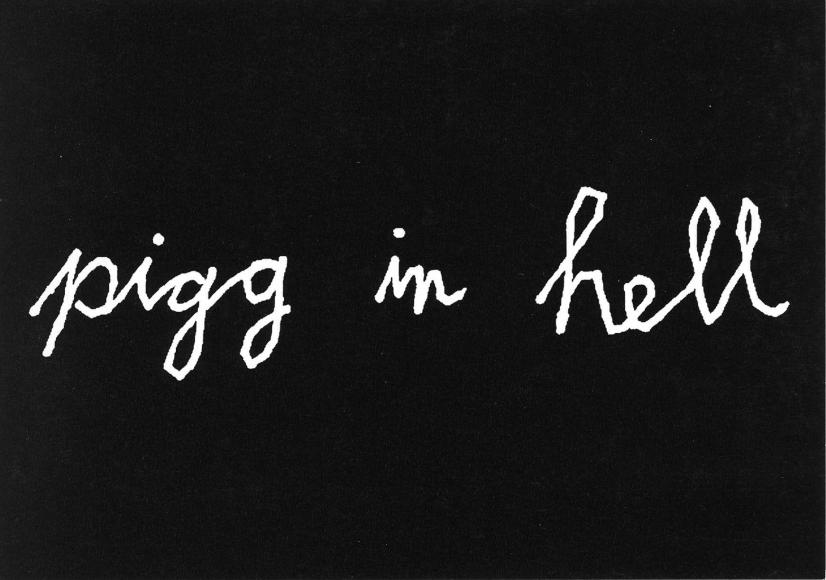 "Some years ago I visited a friend. He worked in a house where people lived who were blind and deaf and everything. These blind people, they always wanted to see something and to see something, they would take their fingers and push them into their eyes, like this. Whatever they did, having breakfast or being on toilet, they always pushed...to see stars. Sometimes they would have already deep holes in their eyes, like three of four centimeters deep holes. One time I saw a boy on the toilet, because in this house the doors were always open, you never know what these people do next, so... I saw a boy on the toilet, masturbating, and at the same time he pushed his eyes in the head."
CREDITS
directed by Michael Laub
Performer Astrid Endruweit
Conceived by Astrid Endruweit / Michael Laub
Music Larry Steinbachek additional music J.S. Bach, Aretha Franklin, Gagaku
Lighting Nigel Edwards
Sound Rainer Frey / Michael Laub
Costume Sara Schwarz
Choreographical Assistance Dennis O'Connor / Hildigunn Eydfinsdottir
Assistant Director and Production Management Claudine Profitlich

Produced by TanzWerkstatt Berlin, Podewil and Remote Control Productions
Commissioned by TanzWerkstatt Berlin
PRESS
Katrin Bettina Müller, die tageszeitung, 17.08.2000
(…). For some 20 years now, Laub has been lustfully demolishing famous film and theatre material; he plays a clear-sighted, double-handed game that no longer permits any confusion to arise between the performers and the roles they are playing. Astrid Endruweit is on a stage for the first time in her life, and into her solo she packs her history of working in a children's home and studying Sinology. The last thing we would ever have expected from Michael Laub, who is known for his ironic distance, is this determined clutching of the here-and-now, this obsessive wallowing in ecstasy and pain.
Endruweit rolls her eyes, de-activates the outside world, and submerges. She surfs through foreign bodies, passes through young people going through puberty, traverses blind men who masturbate and bodies that are freed from the spirit and lewdly wiggle their behinds. When she bends, we are reminded of those Gothic figures whose spirits are already soaring halfway to heaven. She talks about prostitution and injury, about failure and fear. She uses obscenity as a means to delve below the surface. She wrings herself out like a towel always threatening to rip.


Joyce McMillan, The Scotsman, 18.05.2002
(...).Created at the TanzWerkstatt, Berlin, by director Michael Laub and performer Astrid Endruweit – who was working as an assistant in a children's home when she began to create this show – pigg in hell is both an astonishing celebration of the natural sexuality of the body, and a vivid, sometimes tormented, account of how that pure impulse can be abused and distorted.
Enduweit's dance works in a range of ways. Sometimes she takes the stylised sexuality of conventional dance movement, and makes it vividly, orgasmically explicit.
Sometimes she apes the pouting, commercialised sexuality of the catwalk and the photo-shoot, or the fierce and direct energy of Kabuli movement. Sometimes she invents her own powerful animal movements, imitating a content cow or pig, or
a tiny foetus in the womb; something she soars off into a realm of pure, beautiful natural movement that seems like a kind of resolution.
And when she speaks, it's most often about the vulnerable – the handicapped, the blind, the children, the young girls who become prostitutes – and of the abuse of the sweetness within them, which is their birthright.
Endruweit's gift as a performer – slight, small, yet strong and sensual, with an immensely flexible, ever-changing face – is that she can embody that sweetness, while fully portraying the strength of the forces ranged against it. The result is a disturbing, memorable piece of theatre, born of the moment we live in.



Wiebke Hüster, Frankfurter Allgemeine Zeitung, 17.08.2000
(…).Michael Laub, the Amsterdam-based choreographer of Remote Control came up with anything but ambiguous movements for the sexualized body of his German dancer Astrid Endruweit. Pigg in hell is the intentionally (if cryptically) mispelled title of the 50-minute piece, which was being performed for the first time. The solo falls within that grey area between sexuality and obscenity. Gestures of ecstasy and pleasure/pain are performed with enchanting beauty. The sparse interjection of speech and song makes all the more intensive this danced study of violence and sexual abuse.



Eva-Elisabeth Fischer, Süddeutsche Zeitung, 21.08.2000
(…). If the beauty possessed by this beast is hardly of the conventional variety, this biographical production leaves us in no doubt of her animal nature as she turns into a savage, obscenely panting beast. Inspired by the paintings of Hieronymus Bosch, it is this pigg in hell that gave the piece its disfigured title.
And so she juts out and throws about her behind, her hips. Like a monstrous pear. Pure sex. 'Prost, Paps,' says her mouth, a blurred, shapeless mouth whose disappointed corners relate that Astrid Endruweit was once a child and is now a woman but was never young. A mouth that hangs, lips that curve like those of a drab suburban version of Jeanne Moreau. With this mouth she naively says and sings banal and obscene things, and with her hips she sways provocatively – an act of masturbation without nudity. Grinds her fingers into the sockets of her eyes while telling the tale of a blind man who masturbated and, if by nothing more than the throbbing of blood in his eyelids, hoped to see the stars.
Endruweit talks and acts about hard sex, abuse, prostitution and violence, about the two fathers to whom she spoon-fed liver sausage when they were drunk. She mimes on all fours, tongue outstretched, loudly panting the pig from hell. In doing so she exudes, incessantly discharges herself because economy of means is foreign to a stage debutante. That is touching and repellent. When, finally, she stretches her arms out to the heavens again, transfigured once more, and the organ starts up again, one thing is certain: we really don't want to see it all again. Laub intervenes, with a stroke of inspiration, at precisely this point, stages a coitus interruptus, denies her religious fulfilment at the right moment. He turns off the power, 50 minutes into Astrid Endruweit's performance. Lights out. Thank you. Dreadfully beautiful.