Michael Laub / Remote Control Productions
Planet Lulu (1997)
PHOTOGRAPHY / CREDITS / PRESS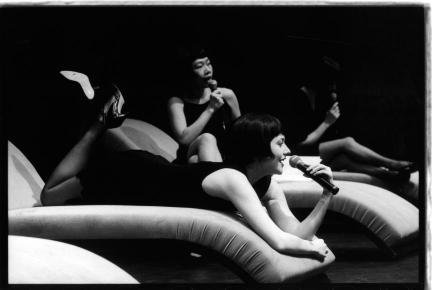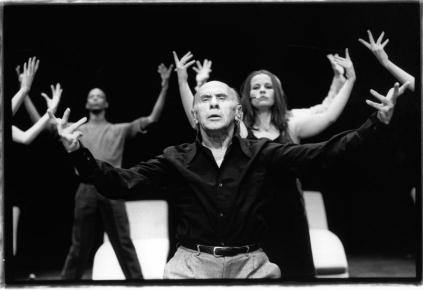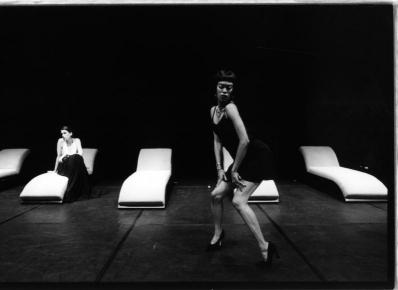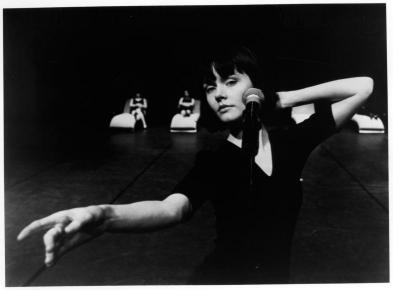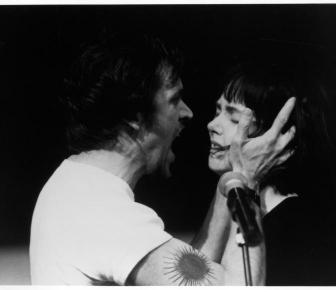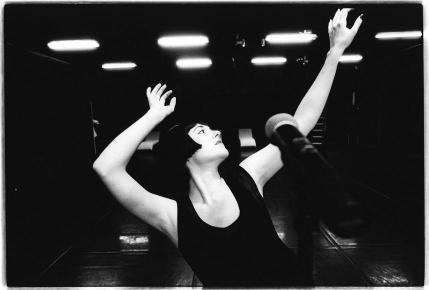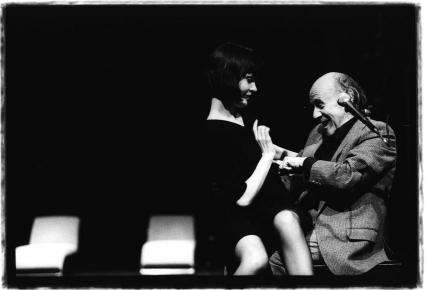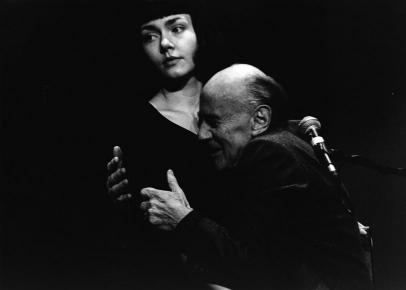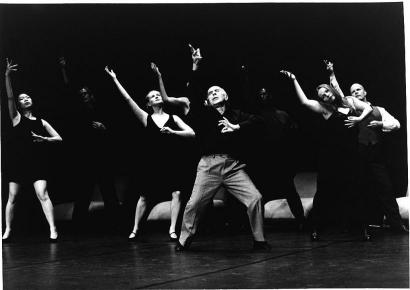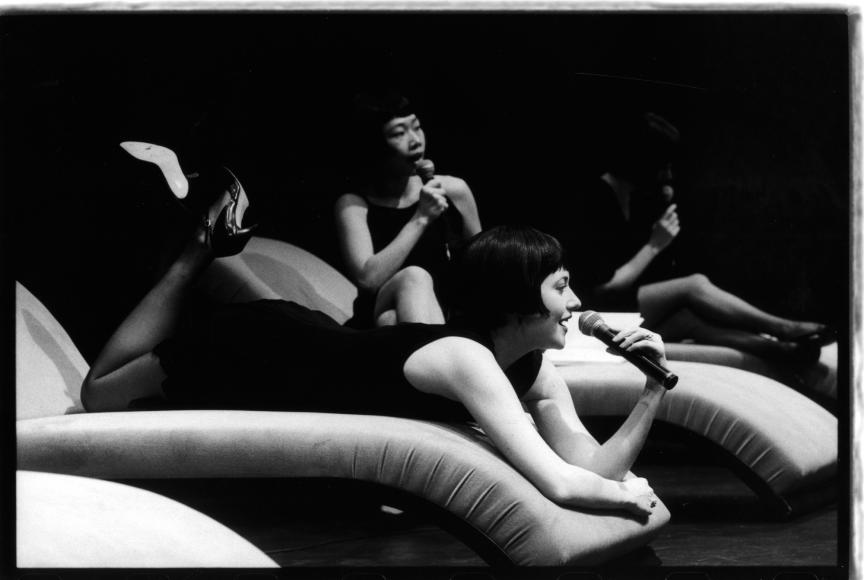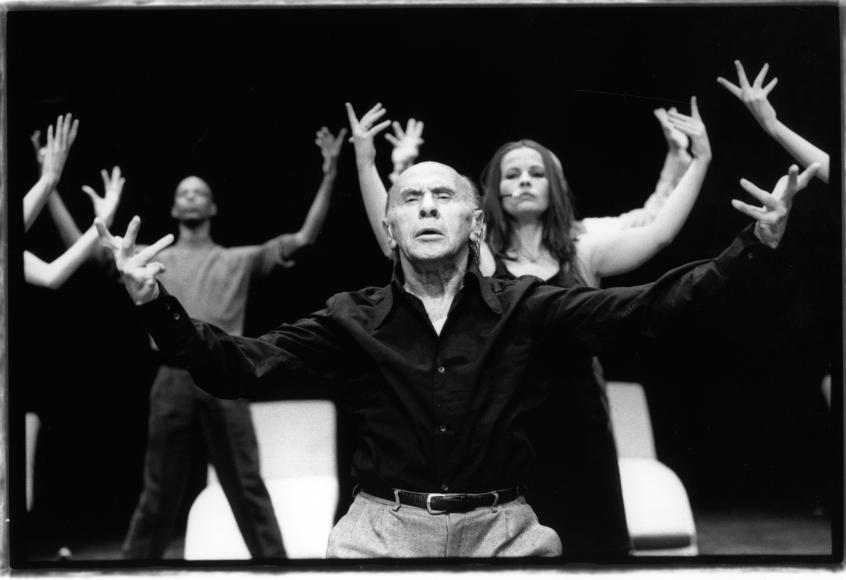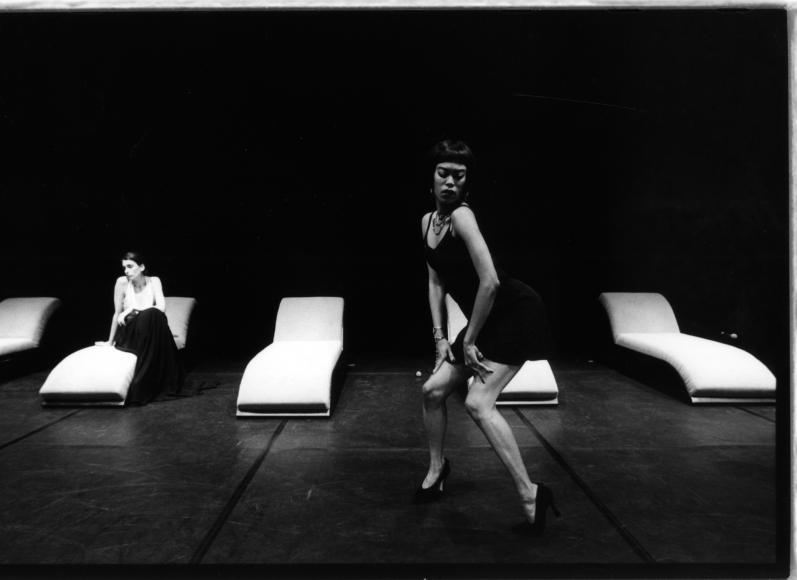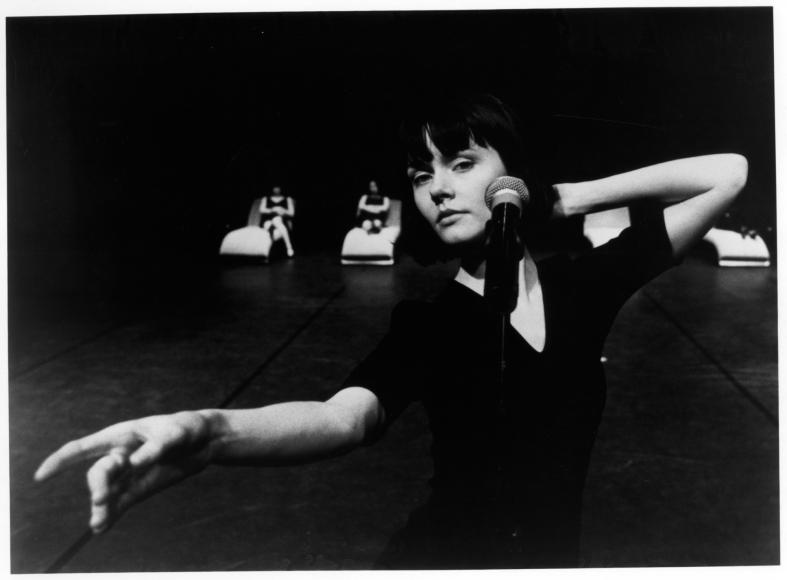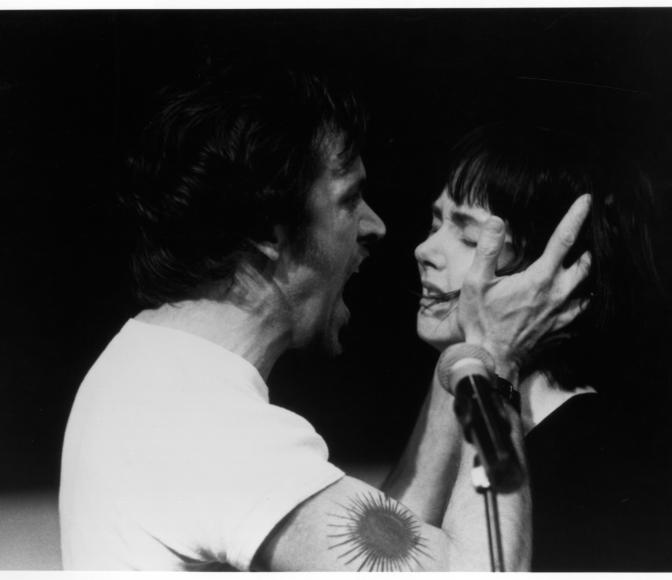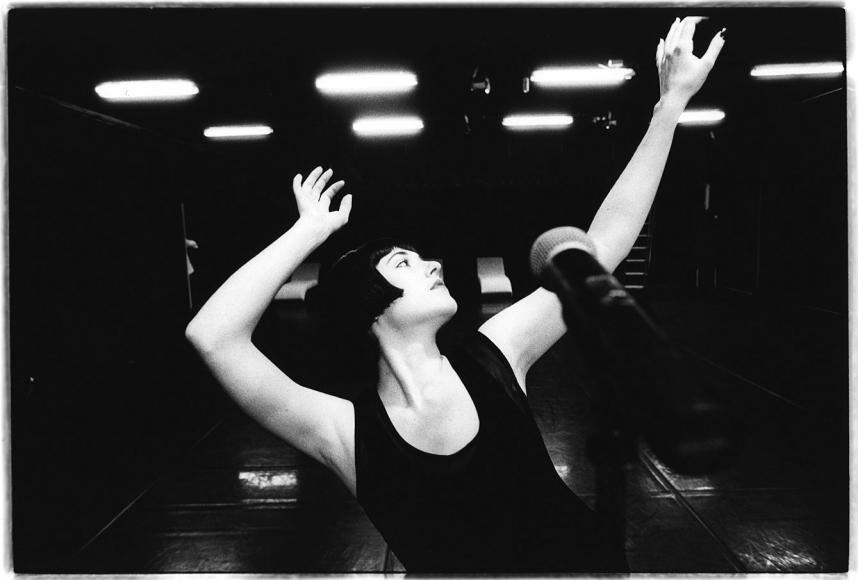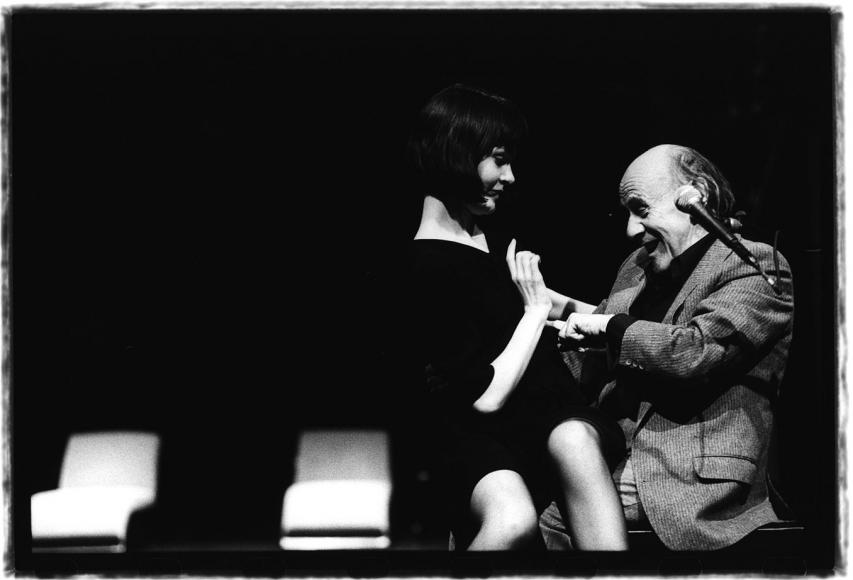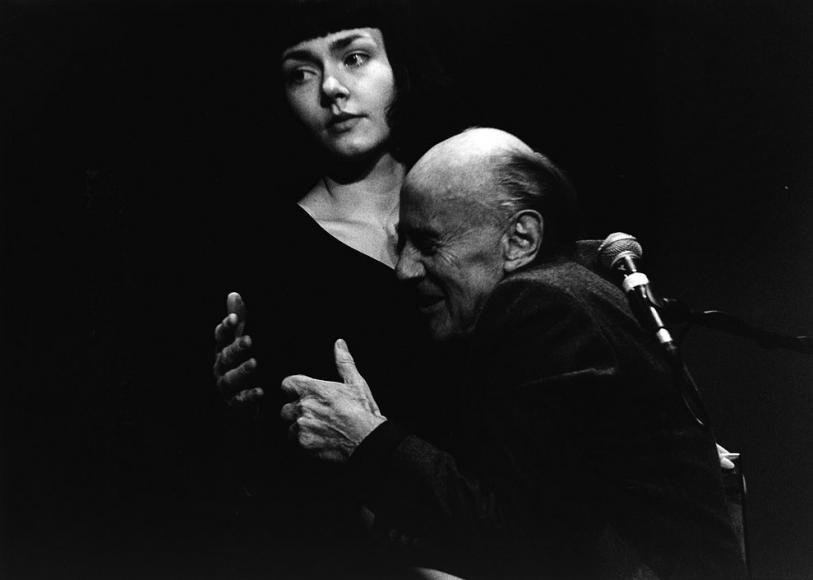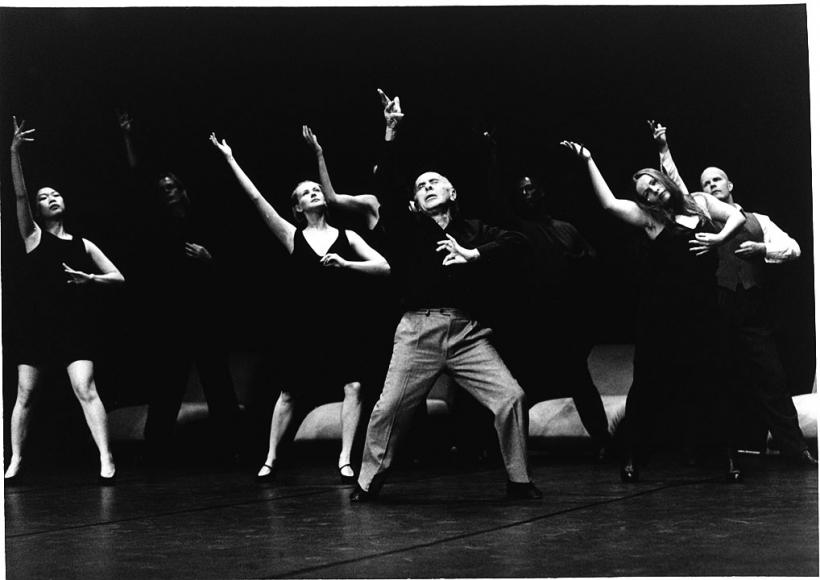 "OK. This is the prologue of the Lulu plays and other sex-tragedies by Frank Wedekind and it starts off with an animal trainer and he's wearing a vermilion-red frock coat, white tie, has long, black, curly hair, white pants and boots and has a gun and tattoos and he starts talking about the whole circus-thing, in this whole 19th-century circus talk, about how the animal-trainer can subdue the animals with his superior intellect. But times are getting bad and people aren't going to the circus anymore. They are going to the theatre and opera and Ibsen instead. But basically it's all the same in the circus as it is in the theatre. Women are like animals and men are like animals too. And then he talks some more and he has Lulu brought in by a big, fat acrobat. We didn't have a big fat acrobat, we just had Dick. Dick is also playing Schön, a dignified man of a certain age who has been Lulu's Mentor and lover for years, who is a drug addict and the chief editor of a newspaper. And then he says something interesting. She was created for every abuse, to allure, to poison and to seduce. To murder without leaving any trace."
CREDITS
Directed by Michael Laub
Music Larry Steinbachek
Scenography Marina Abramovic
Choreography Michael Laub and Hans Tuerlings (Raz) in collaboration with the company; finale choreographed by Felix Fibich
Lighting Gérard Maraite
Sound Lieven Callens
Technical Director Gérard Maraite
Stage manager Martin Taminiau
Assistant director Claudine Profitlich
Executive producer Renata Petroni
Text based on Frank Wedekind's 'Lulu' plays and excerpts from Herbert White by Frank Bidart
Performers Richard Crane, Hildigunn Eydfinsdottir, Prudence Ferreira, Felix Fibich, Almon Grimsted, Eva Gustafsson, Anna Köhler, Mei-Yin NG, Treva Offutt, Karl Schappell, David Thompson, Stephanie Weyman,
Jan Zobel

Co-produced by Remote Control Productions (Tilburg, New York), Hans Tuerlings, Raz (Tilburg), Hebbel Theater (Berlin), Kulturhus (Aarhus), Theater am Turm (Frankfurt), Monty (Antwerp), Dansens Hus (Stockholm), Two Moon (New York)
PRESS
Eva-Elisabeth Fischer, Süddeutsche Zeitung, 07.08.1997
Laub has turned the trash and the trivial into a meticulous form of theatre with his company Remote Control Productions. For his Planet Lulu he made use of a dramatic model: Frank Wedekind's 'Büchse der Pandora' and 'Der Erdgeist'. The set: five green chaise-longues, designed by Marina Abramovic. (...) There are five Louise Brooks imitations, each one originating from a different country: Lulu from the Faroe Islands, from Europe, from China, from the USA, a black Lulu. Beautiful, wild animals every one, each playing another type of woman seen from the perspective (it goes without saying) of the men: Dr. Schön, artist Schwarz, Alwa.
Lulu epic. A male and a female narrator read Wedekind and Laub. They mix with the playful happenings which more illustrate than dramatize the text in scenes and quotations – reflective, amusing, pedantically organised trashy second-hand literature. Some might feel this to be cold, and look for the identification
in the acted pathos. True, there is only one theatrical outburst on Planet Lulu. It hits the spectator as suddenly and violently as the fist of the pimp who brutally knocks to the ground one of the five Lulus. That particular Lulu then starts crying, complains bitterly – shaking, teeth chattering -- about her maltreatment. A hit as a shock, a single scene of perfect theatrical illusion. Laub permits it to enter his otherwise carefully disillusioning play enacted to the powerful beat of Larry Steinbachek's (Bronski Beat) pulsating rhythm. Nevertheless the atmosphere of Eros, sex and death densifies around the artists, who perform their characters as theatrical quotations.
Beautiful, tempting female bodies who luxuriously caress themselves, long-legged portaits of child-women and vamps, one stammering something childish, the other synoptically breathing hard and squealing in permanent orgasm. Lurking on the sidelines is the slinky countess Geschwitz ( Eva Gustafsson). Almost scornfully, in the midst of all this, the female narrator (Anna Köhler) sings the Ilse's song ('I was a child of 15 years...'). And again and again, Schigolch stumbles across the stage, an old Rumpelstiltskin who puts one Lulu after another over his knees in order to lick them lecherously, a dirty old man to whom lasciviousness adheres like something diabolical. 80-year-old Felix Fibich possesses a striking head on top of a small, bent body. As a black magician, he leads the last dance with the noblesse of a ballerino from hell. Thus, Michael Laub's theatre about Wedekind and the planet sex come to an end with an unexpectedly elegant dance: nothing but marvellously swinging flowers, grown from human abysses.
Nora Eckert, Theater der Zeit, 10/11 1997
A more subtle, but also more steely, approach is taken by Michael Laub in Planet Lulu, a perfect collage made up of dance, language and performance. His piece bawls out to the world the erotic delirium as 'fucking fun'. Aesthetically, he has a preference for Minimalism interspersed with break-dance and classical pas-de-deux. There are five women playing Lulu, hip-gyrating go-go girls who dominate the stage. 'Women are like animals,' claims Laub, 'and men,' he adds, 'are like animals too'. The characters roar, hiss and hum accordingly. And when their own passions transform them into monsters, screaming abominations acting out a sex-tragedy, Laub's Planet Lulu refrains from moral commentary. In this age of 'new physicality', the fact that Lulu signifies the body cult in the truest sense of the phrase may be an added reason for success. The body is a location, the piece declares, a venue.
Martin Nyström, Dagens Nyheter, 13.10.1998
The strict form breathes through the dramaturgy, which, in an almost musical manner, thinks in velocity, acceleration, density and dynamics. The glossy visual language of the costumes and set dazzles as well as the posing choreography and the sleek music. At certain crucial moments, however, the surface cracks, thus providing a great deal of time and space for a completely different form of address. All this put together makes Planet Lulu a rare musical which, with words and dance but next to no singing, number-by-number gets under the skin.
The idea of multiplying the part of Lulu also creates an interesting effect which liberates and sets her free in the sense of being a creation of a male fantasy. This Lulu is generated as by a matrix, spreading like an ocean – the complete opposite of the image of a progressively tighter tragic destiny stated by the drama. Thus, her death creates the same sudden perplexity and void as that of Don Giovanni in Mozart's opera. However, with his great stage presence, the ensemble's 82-year-old grand old man, Felix Fibich, guides the entire ensemble in his very own dance of mourning. Tremendous!
Anne Flindt Christensen, Information, Kopenhagen, 22.03.1997
This Lulu is in other words a revelling in spleen. Abominations flourish while words dissect the bodies; the universe macabre of Nick Cave is not far away. Planet Lulu is thus a performance in harmony with the spirit of today. The indifference and the disillusion of the 1990s lies stench-like over the whole performance – spiced with the self-conceived postulate that this century will be the one to end them all.

Monna Dithmer, Politiken, 23.03.1997
It is a masterstroke by Michael Laub to precisely implant the Lulu shock into the present day. Whereas at the turn of the century the play's fatal point lay in the purely psychological – that a woman could contain so devilishly manifold personalities -- it now consists in the fact that it is physically possible to cultivate the Lulu-genes and split them into five copies. The monster tragedy is closer than ever.
Isabella Lanz, De Volkskrant, 28.04.1997
Laub allows himself to create five Lulus. (...) The irresistible Lulu is Stephanie Weyman. Her voice is sensual like that of Laurie Anderson, her look guilty and innocent like that of Laura Palmer in David Lynch's 'Twin Peaks'. With it Weyman wins over not only punters, pimps and other fringe characters in the play, but also the audience. She masks her destructive powers in her subtle demeanour and velvety arms. An innocent Lulu lies hidden behind a tempting and dark Lulu, played by Hildigunn Eydfinsdottir. Already at the beginning, this Icelandic actress mentions that in her home, the Faroe Islands, brothels are hardly to be found at all. Such remark has an amusing effect but towards the end, when she is doomed and trembling with fear, her monologue so convincingly shows her vulnerability that you even start to believe her tears. (...) In Planet Lulu choreographer Tuerlings and director Laub are completely in synch. And Marina Abramovic slotted in neatly by keeping her set design simple, chic and aesthetic.

RoseLee Goldberg, Performance / Life Art since the 60s, 1998
Sexy, trashy, and supremely elegant at the same time, Laub's Lulu was an anarchic mixture of media.