Michael Laub / Remote Control Productions
Fast Forward/ Bad Air und so... (1991)

PHOTOGRAPHY / CREDITS / PRESS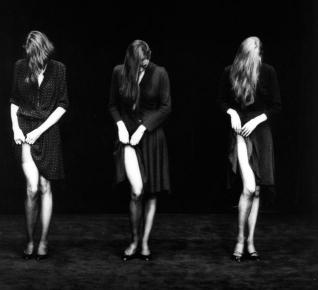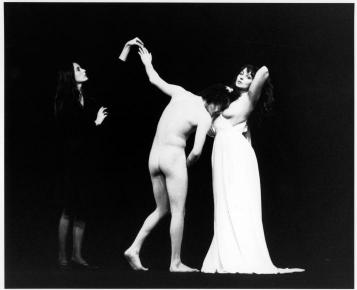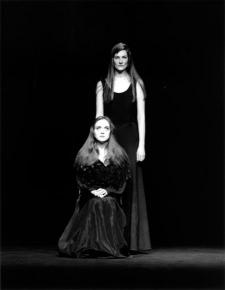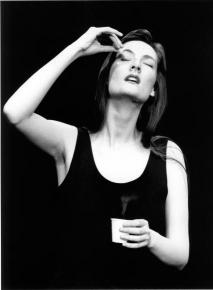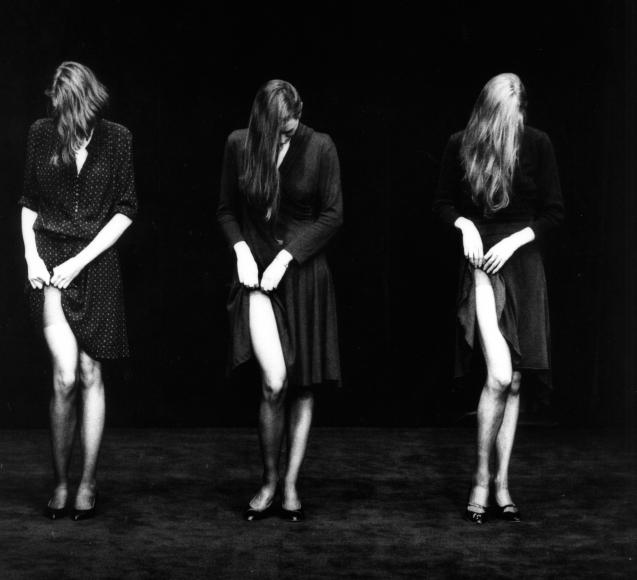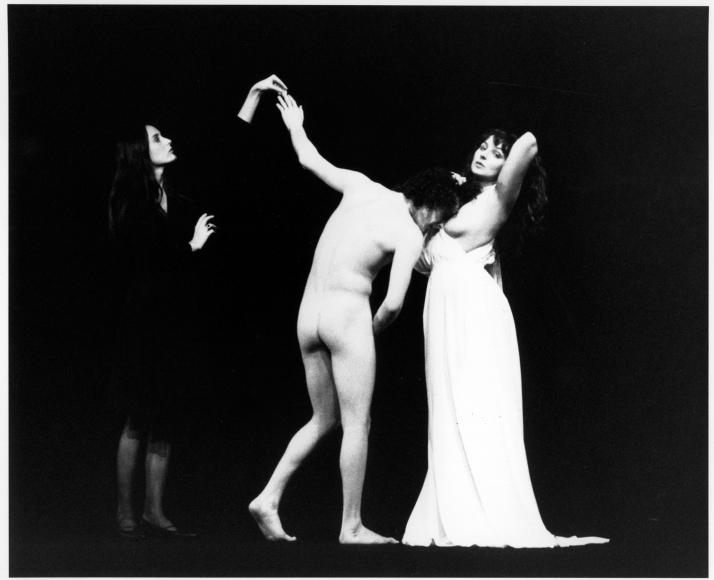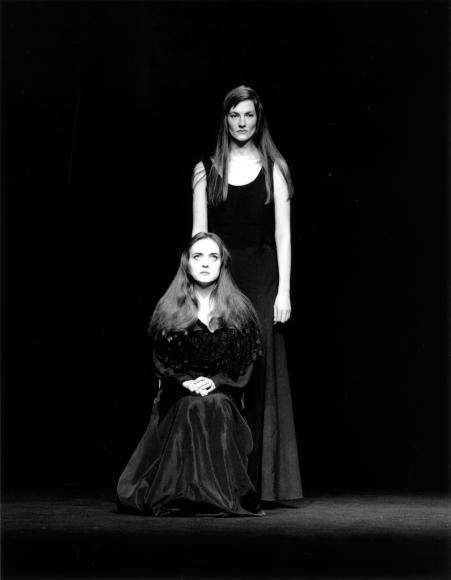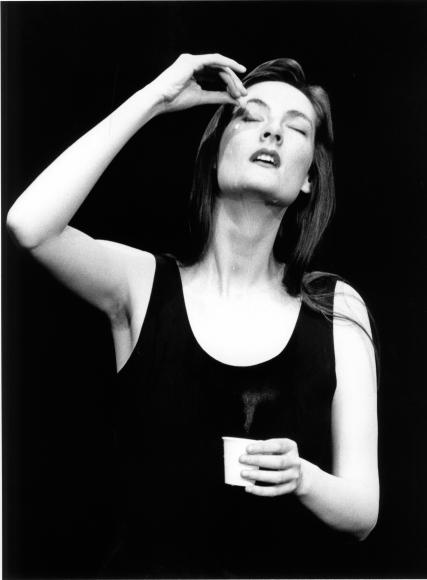 "I lie awake in her bed at night, between her body and the concrete wall. I press my face against the concrete in order to try to get some sleep without getting in her way. In the mornings it hurts a lot. Sometimes when she wakes up she asks me how I slept and I say...fine.

And he watched a couple being interviewed on TV, in the middle of what they called a disaster area. And the woman was saying, 'This is where our house used to be, before the hurricane'. And her husband stood next to her, and he agreed.

And he watched a documentary for a change, but it looked like fiction to him, except for the acting not being as good."
CREDITS
Directed by Michael Laub
Music Larry Steinbachek
Scenography Michael Laub
Lighting Anders Österberg
Sound Magnus Borg
Costumes Marilu Bonezzi
Text Michael Laub, Daniel Halfen
Additional text Jennifer Baerselman, Charlotte Engelkes
Assistant director Jarmo Huusko
Performers Charlotte Engelkes, Daniel Halfen, Daniela Tomasini, Dean Proctor, Eva Gustafsson, Gun Öhman, Jennifer Baerselman, Malla Grapengiesser, Maria Salah, Martha Oldenburg, Michael, Mansson, Mike Harlow, Nelson Cox, Peter Falkenborg

Co-produced by Dansens Hus (Stockholm), BIT (Bergen, Norway), Mickery (Amsterdam), Moderna Museet (Stockholm)
Supported by Statens Kulturrad, Kulturnämen
PRESS
Arnd Wesemann, die tageszeitung, Berlin, 12.03.1991
(...) There is something special here. (...) The individual small scenes are of fascinating clarity. (...) Large parts of the plot originate from the diary of Daniel Halfen, a storyteller sitting on a bar stool, who returns again and again to the bare stage. Depressed but forthright, he seems to have escaped from a Kaurismäki film. When he is not on stage, Jennifer Baerselman is the narrator. She tells the story, for example, of a woman who briefly went mad and strangled a man. One of many. The story is quite an epic. Jennifer relates how it all happened, how the woman strangled the man. On the floor next to her a tall woman is actually strangling a man – Charlotte Engelkes, a woman with fine features and all the insane pride of a lonely person. She doesn't deny the physical exertion involved in committing a murder. Later she jumps up and exclaims, 'I feel so free!'. At another point, she flaps her arms like wings. Then, looking just a little like the young Edith Clever, she stands on the edge of the stage once more and utters a short, biting, high-pitched cry – and also looks like the figure in Edvard Munch' famous painting 'The Shriek'.


Edith Boxberger, Frankfurter Allgemeine Zeitung, 08.03.1991
Remote Control Productions' performance Fast Forward / Bad Air und so... is an exquisite arrangement of ingenious scenes and exhibitionistic individuality, filled with a wonderful absurdity and madness.
(...) The performance, which lasts nearly two hours
, is a new type of work for the theatre, reflecting on the human body and acted out by 15 unconventional individuals with their highly cultivated peculiarities. They move rather like frontier runners on the borders of reality, balance artistically between fact and fiction, appearing and then disappearing again. Nothing is more sacred to them than their obsessions, which reveal themselves mainly in a physical way. Choreography and direction are designed to bring about a definite cooling down of this sensual-individual precipitation. Whether they are violent or erotic, relaxed or tense, the gestures and movements remain minimal.

Jean-Marie Wynants, Le Soir, Brussels, 09.06.1991
The performance proceeds like one long daydream, reflecting a push-button culture: many entrances and exits, group verging on contemporary dance, gestures repeated, etc.
There are some terrific images, too. At one point, all the women on stage take a piece of damp cotton batting and press it against their temples (so film-like) as one of them exclaims, 'Suddenly, a tear rolled down Eva's cheek'. The mood thus set prevails throughout the rest of this moving, retrograde, final sequence. Icing on the cake: a flashback recaps the preceding episode for those who didn't manage to catch the whole thing.


Janne Aas, Klassekampen, Oslo, 13.04.1991
(...) Fast Forward / Bad Air und so... centres around sex, crimes and erotic fantasies, murder as an index of violence, and insanity experienced by media-oriented society. It is also about alienation. Despite the intensity of the contents, the presentation is blasé, absurd and humorous. (...) The performance unquestionably has a style of its own; bizarre, fresh, elegant. (...) The work is playful and unpredictable.

Frode Grytten, Bergens Tidende, 15.04.1991
Thematically, Fast Forward / Bad Air und so... takes its nourishment from the detective serials on television, from video aesthetics, from pop art. The claustrophobic and nightmarish performance revolves around the city's undercurrent of brutality, sex and alienation. With its characteristic rhythm and fragmented presentation, it becomes sort of a film noir of the stage.

Helmut Schneider, Salzburger Nachrichten, 13.06.1991
This manic production of stories is supported by the perfectly appropriate music of Larry Steinbachek. This composer, who became known through his work with the group Bronski Beat, created a thrilling but unobtrusive musical ambience. As it is so often the case with good film-music, the tunes strike the listener as somehow familiar a trait, that the music shares with the sporadic English texts spoken over the microphone – with porno- and crime-sequences underneath.

Gernot W. Zimmermann, Der Standard, Vienna, 13.6.1991
There is an interminable coming and going, entering and exiting, minimal stabs at storytelling scenes, that collapse into themselves: Stories of insanity and of boredom. The recurring halfcut texts speak of these things as well: Of exhaustion, of the omnipresent television, of prefab illusions of happiness, of attempts at living and their falling apart. This sounds sinister to a high degree, but it's hardly taken that seriously by Laub or the individual and living actors – if you wish to label them that way – of the group.