Michael Laub / Remote Control Productions
Solo with Charlotte Engelkes (1995)
PHOTOGRAPHY / VIDEO / CREDITS / REVIEWS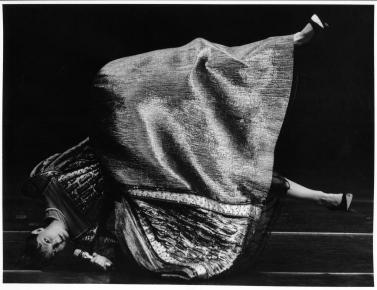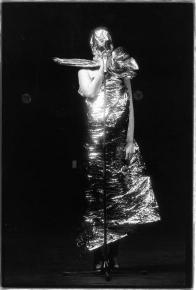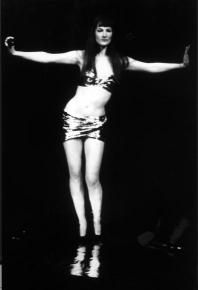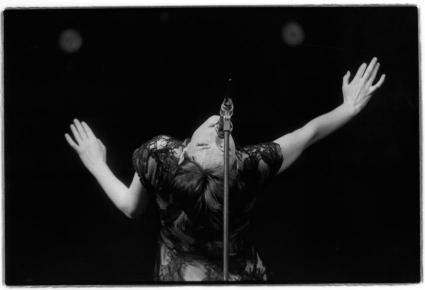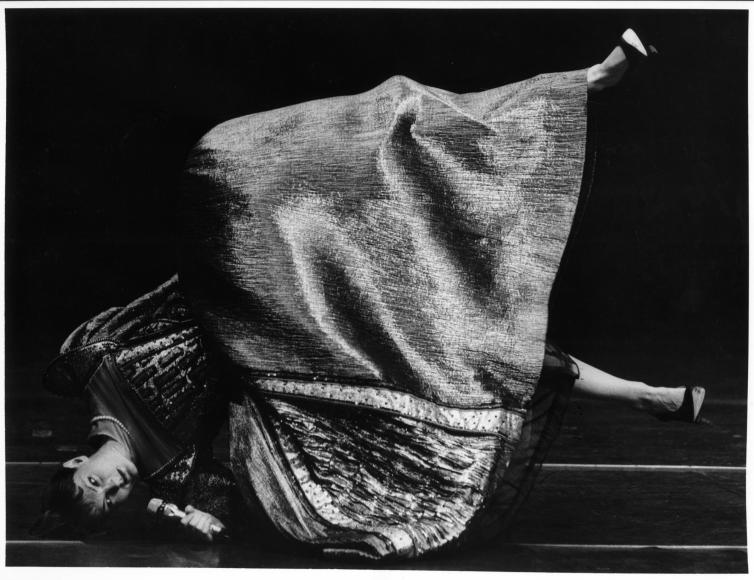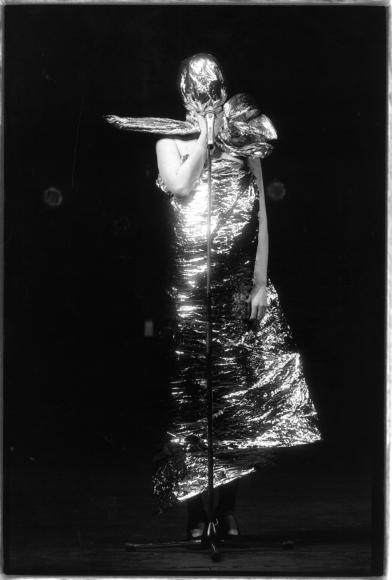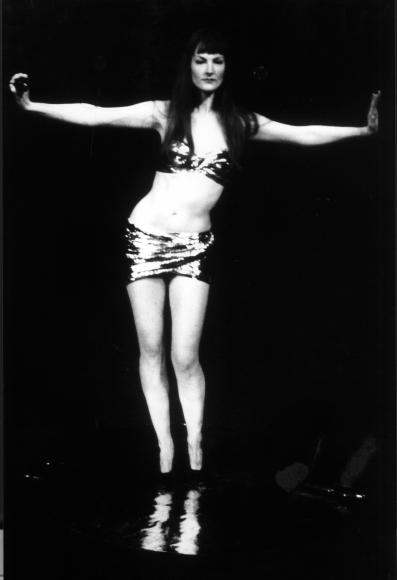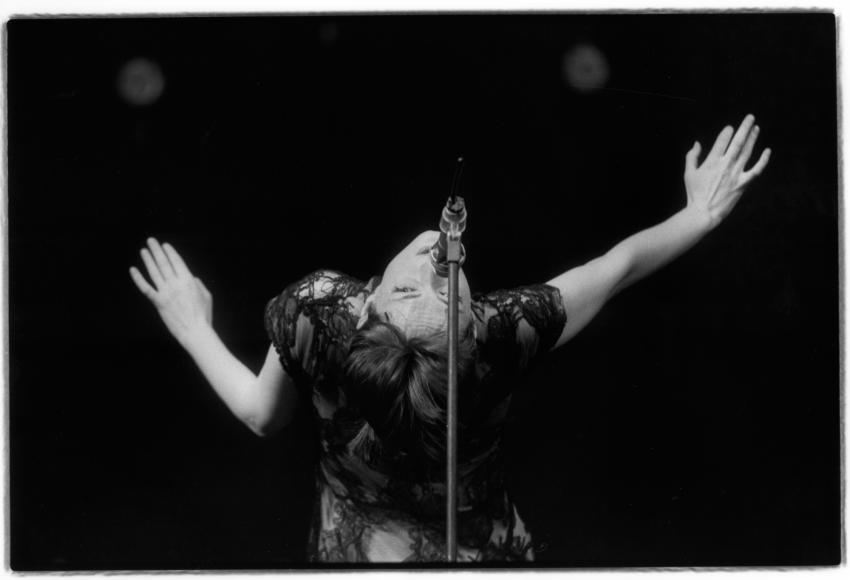 "My nipple is sticking out.
I drove a fork-lift. I worked topless. I went to art school. I worked with children's theatre. And I also took a medical course and learned how to perform tracheotomy.

And there is another scene at the mental hospital. With really simple scenography. Just a chair, a microphone, and me. And all that stuff which runs through the body goes up to the brain. I can´t put things together anymore. Something with the blood sugar also. So I'm just sitting and staring out into space. Yul Brynner. I get thinner and thinner and then I disappear."
CREDITS

Directed by Michael Laub
Music Larry Steinbachek
Text Charlotte Engelkes, Michael Laub and Marina Steinmo
Lighting Kamal Ackarie and Michael Laub
Sound Pieter Jongelie
Assistant Director Peter Schulz
Soloist Charlotte Engelkes
Production Manager Renata Petroni

Co-produced by Remote Control Productions (Tilburg), Theater am Turm (Frankfurt), Hebbel Theater (Berlin), Dansens Hus (Stockholm), Szene (Salzburg)
PRESS
Katja Schneider, Süddeutsche Zeitung, München, 14.10.1995
The beautiful Charlotte Engelkes, who is naked underneath a transparent lace evening-gown, gears herself up and strikes her pose. (...) A classy wickedness characterises her dance segments to the music of Larry Steinbachek (ex-Bronski Beat). Nothing falls flat, thanks to Charlotte Engelkes' allure, her delicate presence and the subtle irony of a performance that is funny without ever sinking into thigh-slapping humour.
Sandra Luzina, Der Tagesspiegel, 13.5.1996
Charlotte Engelkes is addictive: a stage sphinx the likes of whom we don't really have anymore. The Swedish actress with the heavily rolled 'r's and the disturbing announcer's voice achieves theatrical results with every cast of her eyes. As shrill nanny-goat or as terror of all Ballet boys, she has until now been the luminous focal point in the performances of Remote Control Productions. Now director Michael Laub has written a solo expressly for his favourite actress. At the same time, he robs his star of a great scene. For Michael Laub is theatrical saboteur. All means of flight into illusion are obstructed here, all glamour denied. Charlotte Engelkes stands on the stage with head held high, controlled right to the fingertips. Every inch the classy woman and yet a diva manquée. (...) A powerful piece of theatre.
Anna Angström, Svenska Dagbladet, 6.5.1996
Charlotte Engelkes creates a kind of zapping Curriculum Vitae out of her artist's life, an absurd story where the boundaries between private life and her characters are constantly blurred. Her presence on stage is complete with her slithering, hip-wiggling body, and her voice, delivering her lines like wads of liqueur-drenched cotton wool. Sweet, but at the same time unpleasant for the person (man) who gets struck by one such line. (...) With her cool laconisms, she nonetheless shows star quality, more than enough for an hour of entertainment.

Gerald Siegmund, Frankfurter Allgemeine Zeitung, 24.2.1996
Charlotte Engelkes shines like an icon, an ice princess in the palace of her own dreams, an actress who plays an actress, who chats about her life. She is shrill and quirky, sometimes laconic, other times theatrical, provocative and chaste all along. She reigns like a queen over her changing moods and the looks of the audience. Wearing a full length, transparent lacy dress, she talks, as a Nordic Femme Fatale, about the days she worked as a waitress in a topless bar. While doing so, she presses her knees together and dances pushing her hips outward, sings Swedish folk songs, becomes increasingly involved with her memories until she eventually fades out of life while sitting on a chair. The solo is a conduit for a great actress, similar to when a piece of iridescent phosphor glows most intensely, before its light dies out forever.