Michael Laub / Remote Control Productions
Fassbinder, Faust and the Animists (2017)
PHOTOGRAPHY / VIDEO / CREDITS / PRESS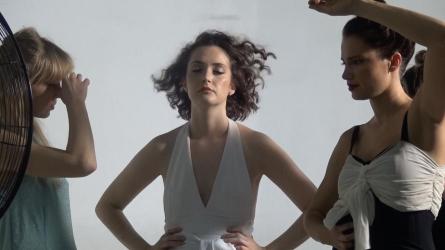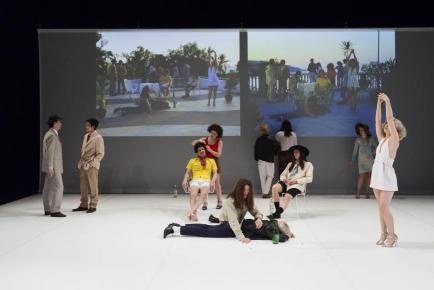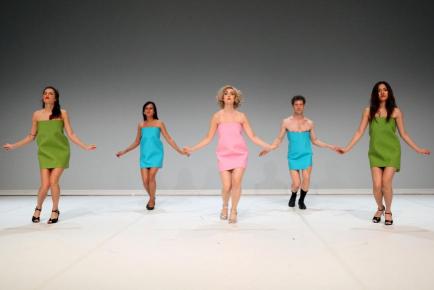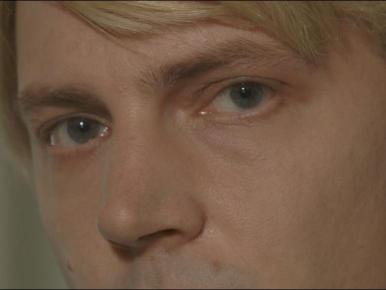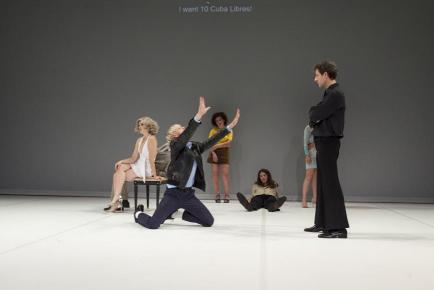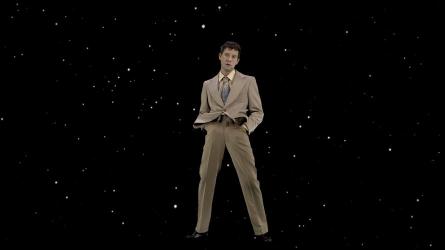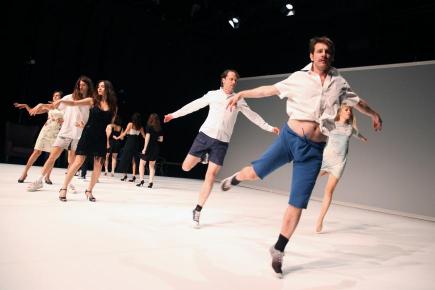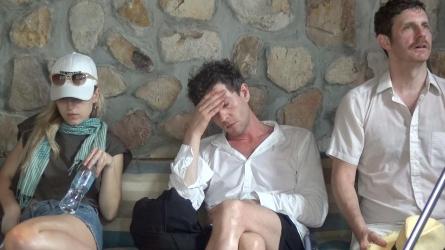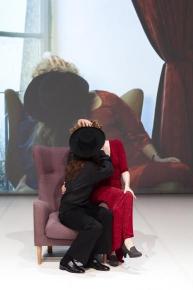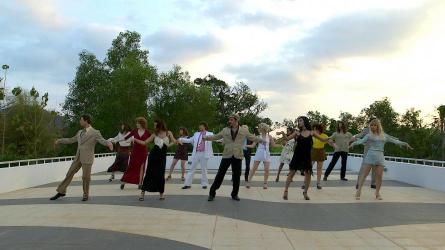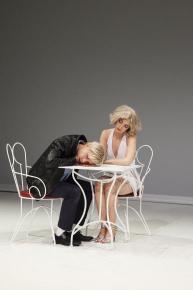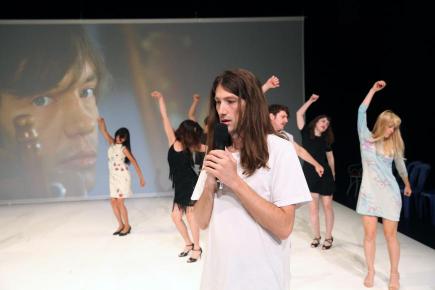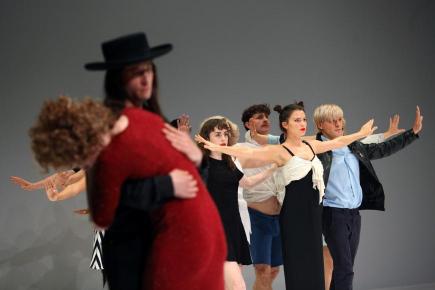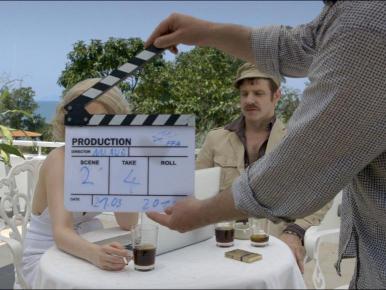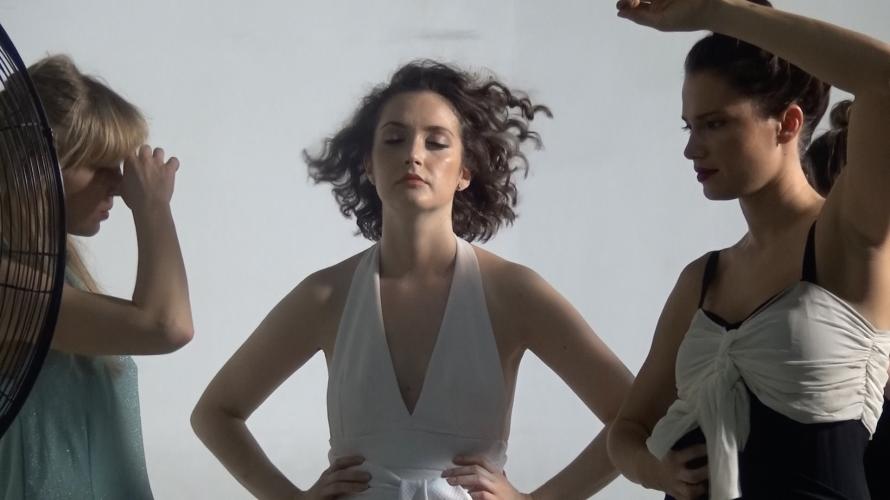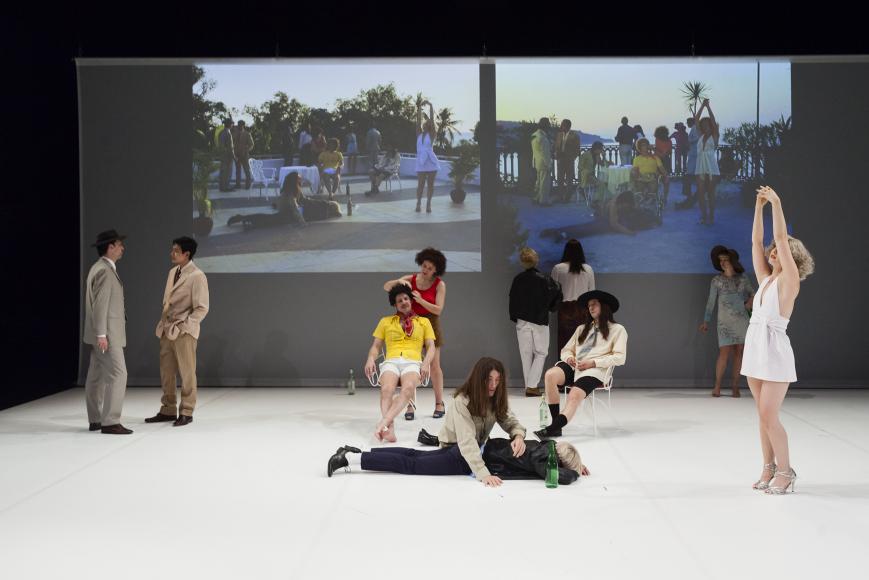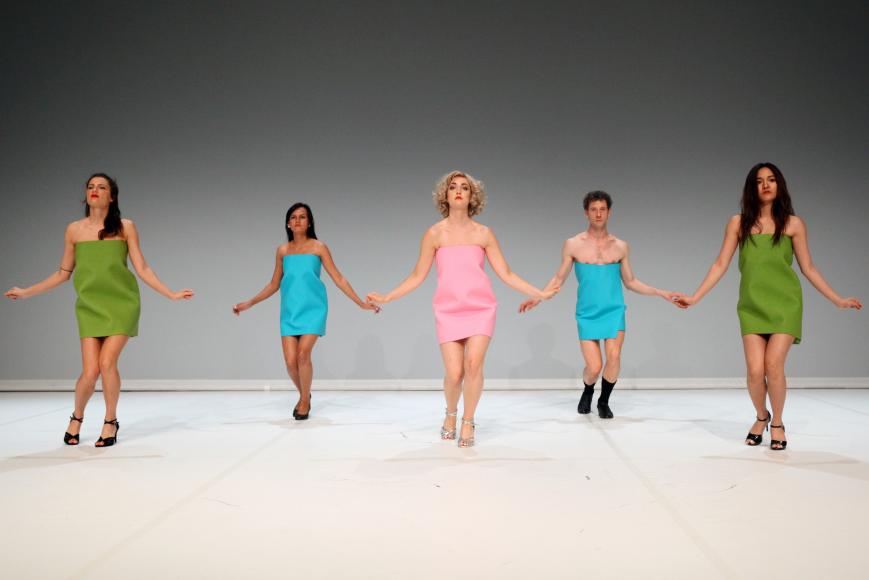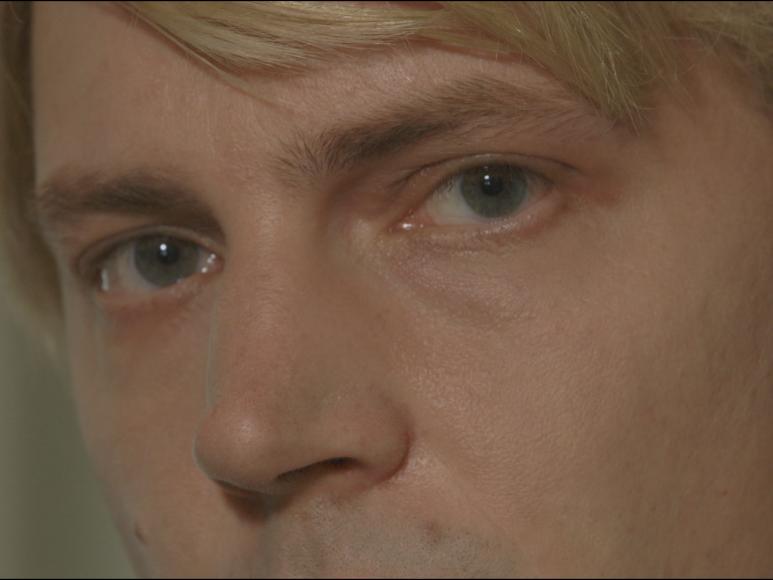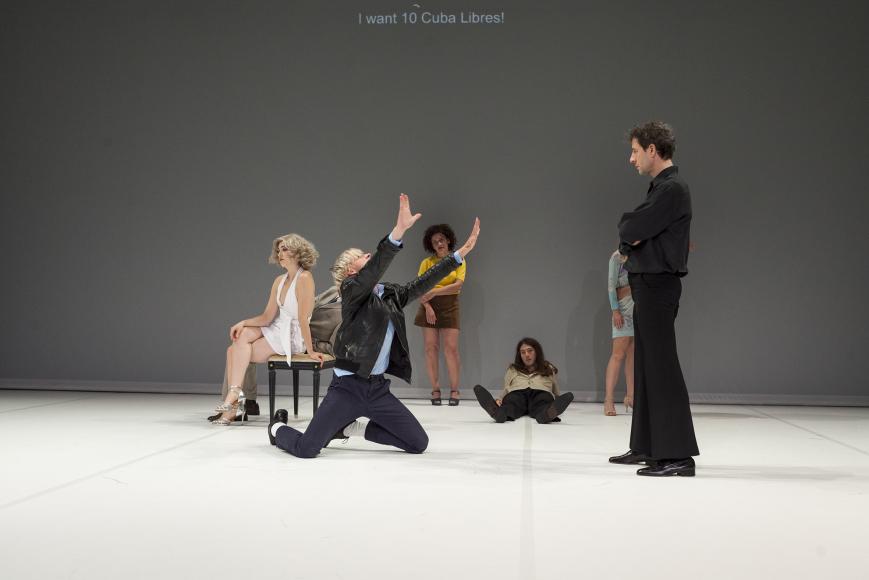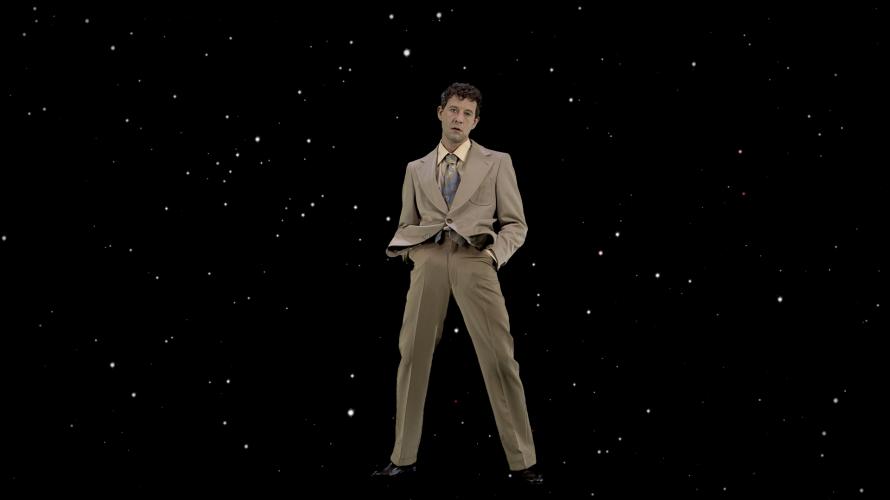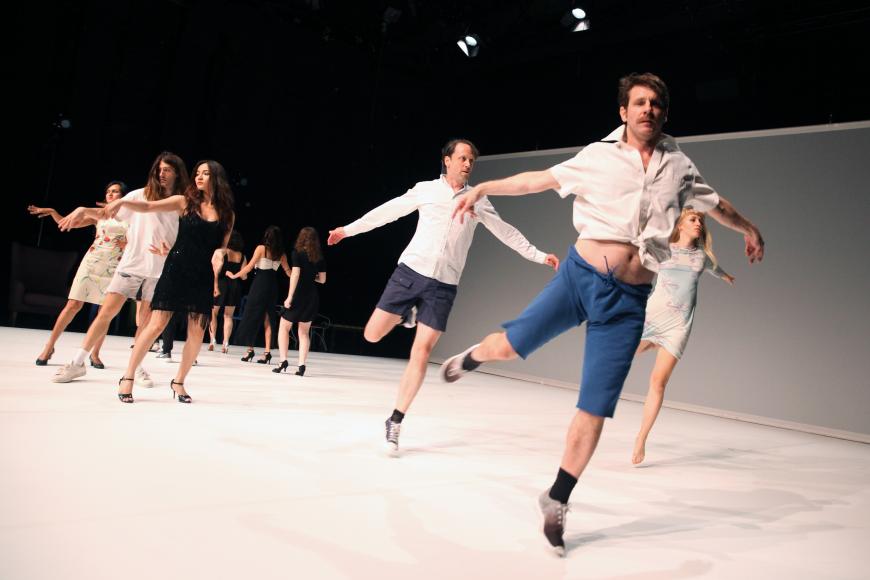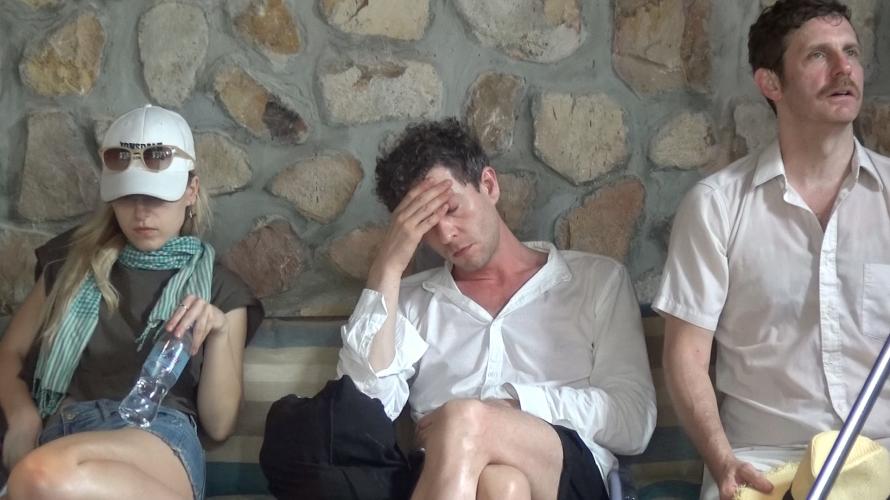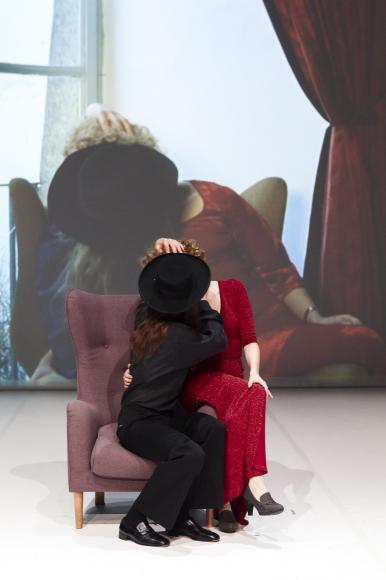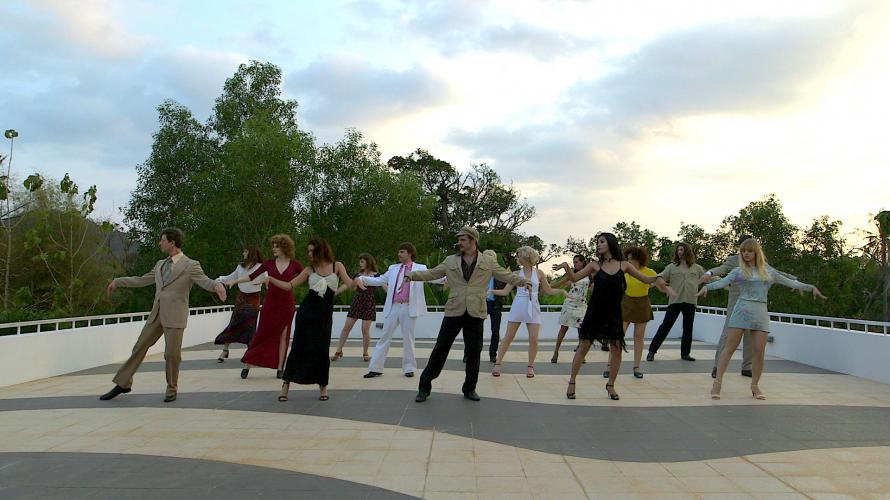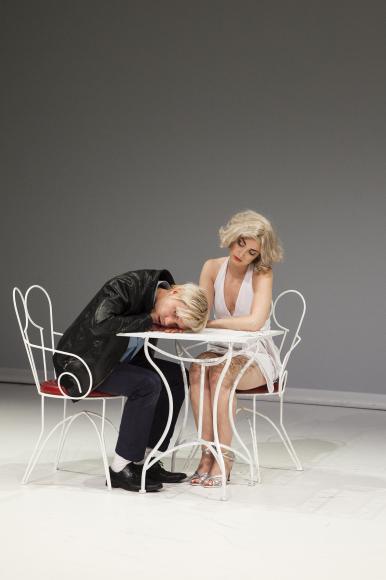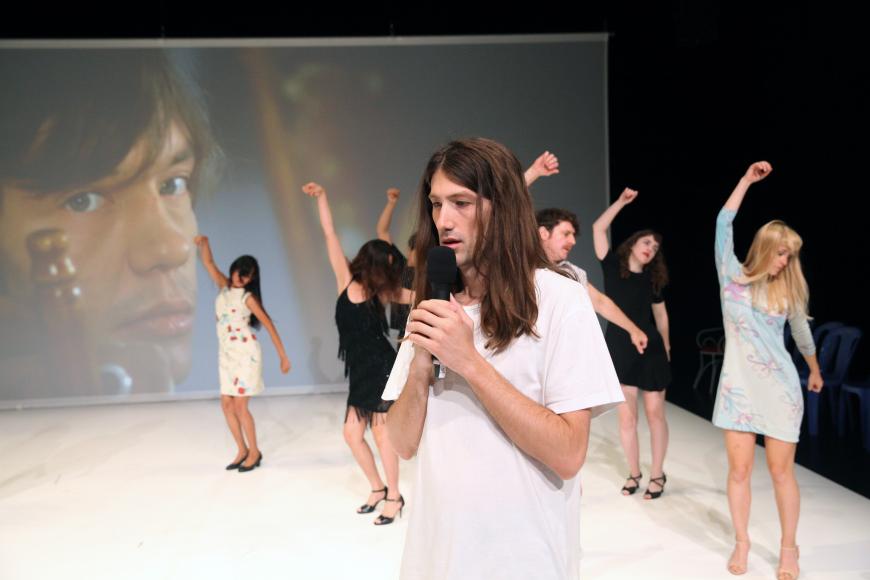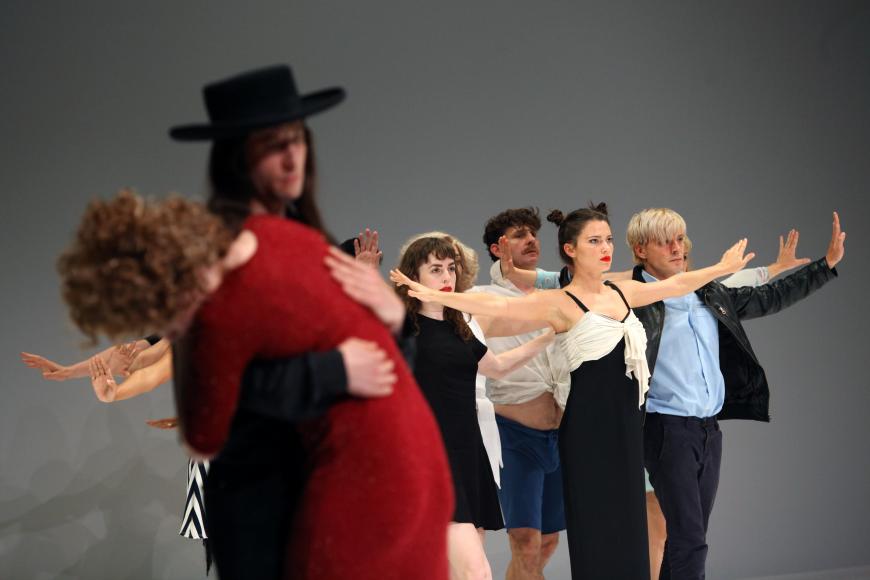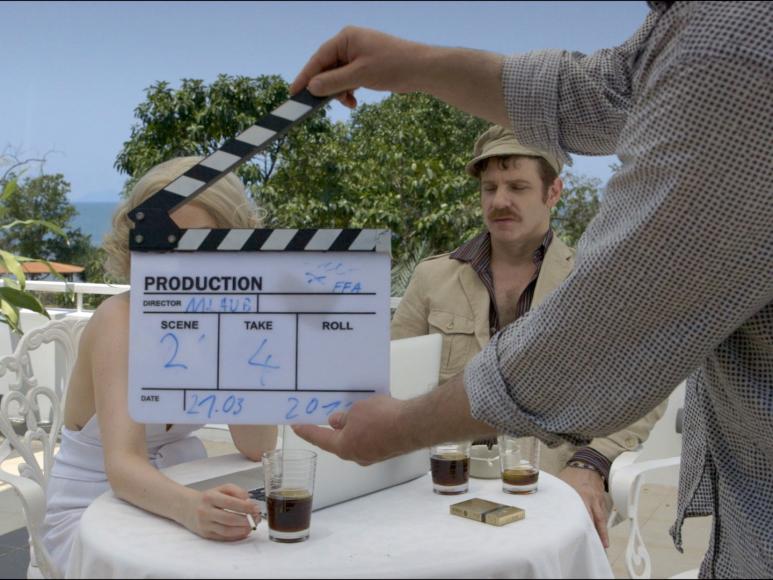 CREDITS
produced by HAU Hebbel am Ufer Berlin, ImPulsTanz – Vienna International Dance Festival, Phare Productions - International branch of Phare Performing Social Enterprise and Michael Laub / Remote Control Productions.

Realised with the financial support of Haupstadtkulturfonds. Supported by the Rainer Werner Fassbinder Foundation.

With: Juli Apponen, Allison Brainard, Magdalena Chowaniec, Maxwell Cosmo Cramer, Astrid Endruweit, Lukas Gander, Robert Gather, Melissa Holley, Mike Iveson Jr., Vanthy Khen, Florian Lenz, Teyva Ly, Gabrielle Miller, Melissa Anna Schmidt, Chanrotha Un, Greg Zuccolo and Lars Studer
On Video: Hilde Dalik, Luis Lüps, Daniel Philipp Roth, Jereon van Vliet.

Conceived and Directed by: Michael Laub
Dramaturgy: Astrid Endruweit
Choreography: Greg Zuccolo, Vanthy Khen, Michael Laub
Video / Technical Director: Bodo Gottschalk
Light: Nigel Edwards
Sound: Stephan Wöhrmann, Toni Bräutigam
Assistant Director / Production: Declan Rooney
Production Assistant / Subtitling: Ayako Toyama
Costumes: Maria Roers, Monique Van den Bulck, Rebekka Schwark, The Cast
Set Elements: Iris Christidi
Artistic / Production Advisor: Michael Stolhofer
Artistic Production Manager: Anna Bergel
Executive Producer: Coralie Morillon
Management Remote Control Productions: Claudine Profitlich

Featuring extracts from: "Beware of a Holy Whore", a film by Rainer Werner Fassbinder (1970) © Rainer Werner Fassbinder Foundation

Music: Original soundtrack of 'Beware of a Holy Whore', Ray Bryant, The Cambodian Space Project, Pou Khlaing and Mute Speaker

On Location Film Crew:
DOP / Camera: Martin Langer
Chief Gaffer / Camera: Jean Chhor
Technical Director: Bodo Gottschalk
Sound Operator: Dara Chek
Assistant Camera / Sound: Seap Hour
Sound Assistant: Vutha Koam
Production Assistant: Sithy Pang
Gaffers: Sok Deun, Veasna Leang, Naem Nop, Soy Sam
Set & Props Designer / Costume Manager: Sarah Marcni
Makeup Artist: Pothmolita Dou
Props: Khun Phyrak
Cast Management: Julia Leyris
Extras: Savy Mey, Samnang Kim, Soy Sam, Naem Nop, Khun Phyrak
Making-of Video: Astrid Endruweit
Additional Video: Magdalena Chowaniec, Oyen Rodriguez and an excerpt from 'Le corps du texte, Tatouages rituels du Cambodge' by Olivier de Bernon and Olivier Delpoux, EFEO/CCF 1998

Thanks to Juliane Lorenz & Livia Fiorio, Jean-Michel Filippi, Giusi Tinella, Sok Visal, Daniela Hahn, Mathieu Ly, The Pavilion Hotel, Knai Bang Chatt Resort and Villa Romonea

For Larry

June 28th (Premiere), June 30th, July 1st & July 2nd 2017
HAU Hebbel am Ufer, HAU2 Hallesches Ufer 32, 10963 Berlin

July 14th, 16th & 17th 2017
ImPulsTanz - Vienna International Dance Festival
Akademietheater, Lisztstraße 1, 1030 Wien, Austria
PRESS
Michaela Schlagenwerth, Berliner Zeitung, 30.6.2017
The Endlessly Multiplied Hanna

The Belgian choreographer Michael Laub in old form at HAU 2 with Fassbinder, Faust and the Animists
In his everyday life Robert Gather is actually assistant to the HAU's artistic director, Annemie Vanackere. A polite, reserved person with a liking for self-irony and harmony, he is just as people have to be in such positions. Now he is an assistant once again, but on the stage of HAU 2. He is the doppelganger of Korbinian, a figure from Rainer Werner Fassbinder's film Beware of a Holy Whore, and says phrases like 'I'd be happy to fetch you something to drink', or 'Don't be so unfriendly to me'. He is polite and reserved, less self-ironic, but certainly anxious for harmony.

Michael Laub, the choreographer and director of this piece entitled Fassbinder, Faust and the Animists, has been playing his own game with fiction and realism for decades. The 64-year-old Belgian has recently given the impression of having become somewhat tired of his own art. But this was a misapprehension. Laub only needed a little time to re-find himself – and Fassbinder's film was exactly the right material.

Fassbinder shot Beware of a Holy Whore in 1971. It was the last to be produced with antitheater-X-film. It was the end of a working phase and the overcoming of a creative crisis. The 'holy whore' on which the film reflects is film itself, represented by a crew of mainly long-term collaborators whiling away the time in a Spanish hotel. Instead of harmony there is vanity, competition, hysteria, hatred, power games, intrigues. Beware of a Holy Whore, as Fassbinder himself once said, 'is about waking up and seeing that you have dreamed of something that doesn't exist.'

This game, as Laub laconically tells with many inserted layers, goes on and on. His seventeen performers mostly wear the same costumes as the figures in the film. In the beginning the original Fassbinder scenes run in the background, and the actors on the stage imitate them simultaneously. Until all at once Laub's performers are cut into the film and gradually appropriate the scenery.

In time this gains contour and malice. For example when in parallel to the scenes on stage apparent footage of the audition for the production can be seen in the background. Then an applicant for the role of Hanna Schygulla performs a lascivious dance, while on the stage a completely different dance doubles Schygulla. Obviously the performer on video didn't make the running. But whatever. Our suspicions are allayed by the holy whore of dance. By the way in which the actors get up to their antics. How Astrid Endruweit, one of Laub's long-time discoveries, gives a Japanese Gretchen in a bizarre butoh insert; how harmony is practiced on yoga mats, or how Greg Zuccolo repeatedly, good-humouredly and soulfully intones 'So Long, Marriane'.

Leonard Cohen's song of farewell to his great love, this is the sound of the evening. For what Laub puts on stage certainly has its own melancholy. A swan song of post-dramatic theatre, which was somehow become old and yet is never over. In which at some point the main thing was to persevere. During the piece the Cambodian dancers appear with increasing frequency, accompanied by a few colleagues, and perform the same sequence to the unchanging few bars.

Dance can also be merciless. The rhythm is correct; it is borne by small slivers of drama, little bits of spitefulness. In one scene we seen two performers projected onto the back screen doubling a scene with Hanna Schygulla and Lou Castel. On stage the doubles recite the scene simultaneously and in the film we see the real Schygulla endlessly reflected in one of the mirrors on the wall. And so it goes on, in continually new versions of the same old game.


Helmut Ploebst, Der Standard, 17.7.2017

Gretchen's Revenge on the Holy Berserker

The new work Fassbinder, Faust and the Animists, by the Belgian choreographer Michael Laub, is a masterpiece. After its premiere in Berlin it is now being presented in Vienna.

He has thought of everything. Initially of Rainer Werner Fassbinder and his Antitheater group, of Goethe's 'Heinrich! I have a horror of you' and of the sky over post-communist Cambodia. With Fassbinder, Faust and the Animists the Belgian choreographer Michael Laub introduces his most recent piece to a Vienna audience – at ImPulsTanz in the Akademietheater – shortly after its premiere in Berlin.

Laub has fileted Fassbinder's film Beware of a Holy Whore, from 1971. He has some of the most important passages imitated live, edits Mephisto and Gretchen in from Goethe's Faust and inserts rhythmic dance passages. What comes out is a success down to the last detail, and its topicality only reveals itself on a second viewing.

Beware of a Holy Whore is a critical reflection of the protest movement of 1968, which had it anything other than easy in its opposition to its bourgeois parental generation. The resistance generated great emotion, and was swept along by a substantial ideological urge. Meanwhile the communist Khmer Rouge conquered the Cambodian capital Phnom Penh, and set up a regime of terror that almost entirely obliterated the culture of the country.

Michael Laub has already dealt with the slow regeneration of Cambodia, and his decision to link Fassbinder and Faust has a compelling reason. When the young Goethe already had the material for his 'Gretchen tragedy', he had been a part of the oppositional Sturm und Drang youth movement for some time. Here too the resistance was shot through with outbreaks of emotion and inner suffering similar to the ones that make Beware of a Holy Whore such a torture. The film was Fassbinder's attempt to work through the chaotic production conditions during the shoot of Whitey in the same year.

Fassbinder's group Antitheater broke up after this drama about the creation of a drama, but the workaholic director succeeded in dissecting the optionally authoritarian, boorish or lachrymose 'berserk artist' of the continually stoned seventies. In allusion to this Michael Laub has inserted into his piece a kind of Madison dance which has been further developed by Cambodia's young people, and that represents a pop culture outside of the usual trend machine: the rule of Pol Pot's ideological zealots is overplayed with coolness.

The medium is the message

The form of Fassbinder, Faust and the Animists corresponds to its many-faceted content. The medium is the message in art too, so Laub projects several excerpts from Fassbinder's film behind his 17-strong, brilliantly acting and dancing live crew, along with imitated – and modified – scenes and footage from the auditions for the piece. Fassbinder's film music, by Leonard Cohen, Elvis Presley, Ray Charles and others, is partially decoupled and combined with Madison music by Ray Byant, the Cambodian Sapce Project, Puo Khlaing and the band Mute Speaker.

In this atmosphere Gretchen takes a late revenge on Faust [sic.] and Fassbinder's treatment of their female figures. Parodying Hanna Schygulla's Venus-like dance towards the end of Beware of a Holy Whore, with Laub she appears in the spotlight – embodied by Astrid Endruweit – and simulates Japanese schoolgirl-porn fantasies. Similarly characteristic is a scene in which a group of dancers on yoga mats go gaga to the schmalz of Cohen's 'So Long, Marianne' – an allusion to Schygulla's grimacing spoofing of one of her colleagues.

Doubled in the background video, the group goes to heaven, where Gretchen lives, to the delight of the audience. As many-layered and ironic as Fassbinder, Faust and the Animists is, it has prickly critical barbs.


Simon Strauss, Frankfurter Allgemeiner Zeitung, 30.6.2017

Lost Illusions in the Hotel Lobby

They kiss, and they battle: Michael Laub adapts Fassbinder's Beware of a Holy Whore for the Hebbel am Ufer theatre in Berlin

Rainer Werner Fassbinder's Beware of a Holy Whore is a film about waiting. A film team hangs around in a Spanish hotel lobby, putting of starting shooting. They smoke, dream, knock back one Cuba Libre after another. Then the director arrives, shouts around and goes to bed with everyone who doesn't disappear fast enough. The main character refuses to kill a woman on camera; the executive producer (played in the film by Fassbinder himself) is continually chasing after funds on the phone. One person slaps another in the face; some people cry, others just pretend to. The film – which was released in 1971 and dealt with the experience of making Whitey, another Fassbinder film – is a parable about the indifference of life in general and of artistic activity in particular. All the protagonists have 'no future' written on their foreheads. Their bodies groan in boredom; their eyes are dull. In the film's closing credits there is a quotation from Thomas Mann's novella Tonio Kröger: 'I tell you I am sick to death of depicting humanity without having any part or lot in it.' What is the point of all the acting, all the movement, if it only results in depiction, not in real participation, asks the film of itself and its audience. In contrast to Truffaut or Fellini, Fassbinder's film on film isn't a romantic affirmation of the magic of the process, the beauty of the fragmentary, but a reckoning with the troubled reality of a setting in which everyone waits for an illusion no one believes in any more.

This feeling of an endless indifference, which pervades the film almost obtrusively, is the starting point for an adaption by the Belgian theatre-maker Michael Laub and his performance group Remote Control that has just been premiered at the Hebbel am Ufer in Berlin. Fassbinder, Faust and the Animists is – as the name implies – an assemblage of different subject matter. The most important (and most forceful) point of reference is Fassbinder's Beware of a Holy Whore and its personnel.

On a white dance floor the seventeen performers repeatedly transform themselves into the film's protagonists, imitating its dialogues, gestures and facial expressions. While the imitation is going on in the foreground, the original can be seen in the background, so Jeff, the director (or his double) bawls out a Spanish interpreter or (both here and there) slaps his former lover in the face. But the re-enactment is disturbed when the performers themselves appear in the film clips, when imitators become protagonists.

Laub's interest in merging fiction and reality, and in making first-, second- and third-order observations, as it were, is also expressed in the use of different narrative material. This piece not only includes film and acting but above all dance, which is presented with such nonchalant lasciviousness that one can hardly open one's eyes wide enough. Mostly in Madison style, a line dance from the 1950s and 60s, the performers move collectively backwards and forwards like figures on a seesawing chessboard, shimmying here, snapping their fingers there. Their bodies seem to encounter the space with a certain haughtiness. Every movement looks as if it weren't absolutely necessary.

Laub's marvellously assembled cast has absorbed the blasé mood of the film, has declared its melancholy and emptiness the central expressive criterion. 'Society has made something quite dead out of him', says the film at some point about Jeff, because he no longer acts 'from within'. This scathing diagnosis pervades Laub's entire piece.

Occasionally he also takes blatant jaunts into the purely trashy – when for example the Gretchen monologue from Goethe's Faust is blended with a Japanese schoolgirl-porn fantasy, or an animistic ritual is carried out to Leonard Cohen's song 'So Long, Marianne' – but these are sideshows that don't spoil the overall pleasure. For what can primarily be seen is a particular variety of doleful offhandedness, which, beginning with the costumes – pretty dresses for the women, socks and trainers for most of the men – is primarily expressed in acute body control. What at first appears to be improvised is perfectly synchronised and choreographed in its casualness. The acted scenes determine the mood that is transformed into dance. So the cool eroticism of Hanna Schygulla, who in one of the film's enigmatic scenes jerks her hips and arms for minutes to a Ray Charles song, is not only imitated but also translated: into a group image consisting of seventeen slightly differing ecstatic arm movements. Laub's Fassbinder piece is therefore not only copy but also appropriation. A commentary that permits its own derivations and dispenses with the constraints of self-reference.

Andreas Ungerböck, ray Filmmagazin, 07/2017
Manic-Expressive

The summertime ImPulsTanz festival once again brings numerous outstanding performances to Vienna, including a particularly spectacular look at Fassbinder, Goethe and the Madison dance by Michael Laub and his Remote Control Productions
The director and choreographer Michael Laub, born in Belgium in 1953, is seen as one of the pioneers of modern dance theatre. While still a young man living in Stockholm in the mid-1970s, he co-founded Maniac Productions with Edmundo Za. The name couldn't have been better chosen, so intensive and physical was the company's work. Even in his early days Laub was developing mixed artistic forms – state of the art today, but at the time anything other than self-evident: performance and video installations, film, body language and strongly rhythmic music all combined into a very distinct mix. Laub formed Remote Control Productions from the work with the Maniacs in 1981, also in Stockholm. Still in existence, the company can also be seen in Vienna. For Laub its foundation meant a more pronounced orientation to theatrical forms, although one should be careful when applying such a term. Actually there is practically no form of staged portrayal that Remote Control hasn't yet tried out and made good use of yet.
The company's long series of successful productions contains intimate solo pieces realised with minimal technical effort (Out of Sorts, Pigg in Hell, Alone/Gregoire), large-scale biographical studies (The H.C. Andersen Project), deconstructed soap-opera musicals (Rough, Total Masala Slammer/Heartbreak No. 5) and pieces based on literary models (most spectacular: Frankula: Shelley/Stoker/de Sade). Influences from video, visual art and – above all – film can't be overlooked in the work of Remote Control. The last time Laub was in Vienna was in February 2016: as part of the ImPulsTanz special [Trans] Asia Portraits, his Dance Portraits Cambodia marked the territory from folk dance to urban club moves on ten large video walls at the 21er Haus. Laub's interest in Cambodia was also apparent in the collaboration he began in 2013 with the Phnom Penh rock band The Cambodian Space Project.
The new work by Laub and Remote Control, whose Austrian first performance gives a spectacular start to the 2017 ImPulsTanz festival, is a so-called 'cinematographic play' with the promising title of Fassbinder, Faust and the Animists. A seemingly odd mixture at first, but Laub and his company pull it off: a cross between Rainer Werner Fassbinder's film Beware of a Holy Whore, from 1970, and Goethe's Faust. With his 17-strong international ensemble, Laub dissects the film and contrasts it in sharp cuts, repetitions and doublings with Goethe's Faust and elements of animism. In large group scenes and suddenly emerging portrait-like soli, apparently disparate material circles around central issues from the film and Goethe's classic: the relationship between the individual and the group, dynamics of community-building and the sometimes tragicomic search for meaning in a secularised society. Driven by almost endless variations on the Madison dance, this interplay of dance, film music and drama increasingly casts its spell over the audience, which it draws into a world whose struggles for love and power between tenderness and violence appear strangely alien and yet all too familiar.
As a kind of working basis for the audience, ImPulsTanz and ray Filmmagazin are showing Fassbinder's moive at the open-air film festival Kino wie noch nie in Vienna's Augarten. Beware of a Holy Whore was particularly important to Fassbinder, as it represented the conclusion of his early work, so to speak, a kind of interim balance. The film-in-film, played by the usual Fassbinder crew plus a few additional stars (Lou Castel, Eddie Constantine), tells of a film team waiting in Italy for an injection of money from Germany so as to be able to continue their shoot – a scenario that Fassbinder knew from his previous film, Whity, shot in
Almeria in Spain, on which he now reflected in his inimitable way. The particular insider joke (which doesn't really have to be understood) is that no one plays him or herself but rather someone else in the team: Lou Castel, for example, cloaked in the almost iconic Fassbinder leather jacket, unmistakably embodies the director, a brilliantly eccentric, sometimes uncompromising, sometime oversensitive despot trying to hold a group of egomaniacs together and complete his project. A lot of drinking goes on (Cuba libre, also familiar as rum and Coke), along with philosophising and gossip, and Fassbinder even includes a budding love story.
How Michael Laub and Remote Control Productions bring together the Holy Whore, Goethe's classic and the Madison is an absolute must-see – but of course that's not all. Laub's fascination with Cambodian culture continues in this elaborate large-cast spectacle, which premiered a few days previously at Berlin's HAU Hebbel am Ufer, so The Cambodian Space Project can be heard again in this performance.


Michaela Preiner, European Cultural News, 18.7.2017

Remakes of films have been familiar for a long time. Re-enactments, in which artistic situations are revived, less so. But a mishmash of remake and re-enactment had yet to be invented. Michael Laub has succeeded in a highly imaginative way with his Remote Control Productions.

Fassbinder remains relevant

ImPulsTanz presented his most recent production, Fassbinder, Faust and the Animists, which was delightedly received by the audience. Its artistic model comes from the cult director Rainer Werner Fassbinder, and was released in 1971 under the title of Beware of a Holy Whore. Fassbinder deals with the failure of a film production on set, the mechanisms of underfunding, their effects of the participants and not least the behaviour of the director and producer, who have no qualms about tyranny or open displays of power.
Laub, pioneer of post-dramatic theatre, saw the 'impossible' film about a failed shoot with a number of bad actors shortly after it first appeared, and now remembered it. With his highly personal Fassbinder interpretation he has made a successful work of theatre that takes the audience back to a time when turbo-capitalism, environmental protection and global streams of refugees weren't a big issue. But when chain smoking, hanging around and taking the limelight were. This is all artistically translated in such a way that – thanks to the considerable consumption of cigarettes – you can even smell the seventies in the auditorium.

Laub lays on a tsunami of ideas

Laub interlocks original film scenes, which are projected onto a large screen, with the same scenes imitated on stage. He has individual ensemble members recite their texts beforehand or in retrospect, out of context – which is explained later, mainly by the film excerpts. He separates the different scenes with dance numbers taken from the Madison, a dance form that originated in America during the 1950s. Here the group members dance to strictly choreographed sequences of steps, and lined up in such a way that they don't get in each other's way. The costumes, closely based on the Fassbinder film, have the same jauntiness as the dances, which go through the entire evening.
In order to escape the trap of a retelling becoming at best a poor imitation of the original, Laub inserts several scenes that have no direct connection with the plot. So at some point Faust's Gretchen is allowed to rattle off her monologue in physical duplication, while elsewhere she switches into the personality of a Japanese schoolgirl, whose sex fantasies she cheerfully squeals, but who also quivers in fear and loathing. The fact that animism is a subject that concerns Laub is made clear by film clips and by a monotonously intoned definition Whenever explanations are announced, they come across in such a way that you don't need to pay much attention to them – memories of school and the head teacher's raised finger are awakened. Delightful the way Laub parodies these teaching and learning situations. Unbelievable the tsunami of ideas in this piece.

Yesterday is also today

The events, which with Fassbinder take place in Italy, but were shot in Spain for economic reasons, are transferred to the present with short videos which were made during rehearsals in Asia. The astonishing thing is that you can see in the faces of some of the filmed male performers that the circumstances on the set seem to have changed very little in the past 46 years, since the Fassbinder film was released. As ever in film and theatre, people have to perform to command, pauses extend endlessly and some of the actions demanded by the director find little favour. The fact that Laub has eternalised himself in a short film sequence is mentioned here in passing.

The soundtrack – above all the music from the film with tracks by Ray Charles ('Let's Go Get Stoned') and Leonhard Cohen ('So Long, Marianne), and decouplings from current Asian pop productions – carries the events through the full two hours with agreeable ease.

Simultaneously laid back and profound

No matter how laid back the piece appears, it has a great many hidden layers. You can perceive them, but you don't have to – that's the great thing. It isn't just the topicality of the subject matter, which has considerable relevance – the dependency of employers and employees in the culture business. Laub's affinity with Asia and its pop productions, which even show anarchic traits, shimmers through here as much as ethics and women's relationship to the theme of sex, whose changes over the centuries can be followed over the course of the evening. The search for relaxation, for trance, even for the meaning of life is also unobtrusively examined several times. Marvellous how the ensemble floats into the air during a yoga session to Cohen sounds. The production is not least borne by the strong desire to entertain its audience. By the idea that theatre, despite all constants, can still be zeitgeisty and still has its justification.

A big compliment to the consistently sympathetic ensemble…


Eva-Elisabeth Fischer, Süddeutsche Zeitung, 21.07.2017
On the Possibilities of Being Belgian

At the festival ImPulsTanz in Vienna Jan Fabre looks at his Belgian homeland, while Michael Laub orbits Fassbinder

Two giants of Belgian theatre in Vienna: at the festival ImPulsTanz Michael Laub and Jan Fabre ensured controversial discussions. At the Akademietheater Laub showed his trashy, melodramatically hysterical reanimation of Rainer Werner Fassbinder's film Beware of a Holy Whore, from 1971, which had premiered shortly before at the HAU in Berlin. The inextricable interconnection of life and art as an endless loop couldn't be praised enough by some, while others would simply have liked to know what Laub wanted to tell them […]

[…] Fabre, back at last from Mount Olympus, on which – in his 24-hour production of the same name – he invoked the ongoing cycle of blood and violence, grants himself and his audience hope. Not everyone, it turns out, can bear this.
Just as little as the monotony of the dance that structures the theatrically hysterical scenes in Michael Laub's Fassbinder, Faust and the Animists. It's a line dance from the 1950s, and calls itself the Madison. In the Madison everyone dances the same steps at the same time, on his or her own, without contact, without touching. The Madison is the metaphor for the failure of what the men and women in Rainer Werner Fassbinder's clique strove for, in vain and with hysterical pathos, whether in their 'anti-theatre' productions or in their own lives. For what people in general strive for: contact, love, recognition.
Laub's performers from the group Remote Control imitate the scenes projected onto the screen, scenes from the film Beware of a Holy Whore. The doubling, the repetition strengthens what the Madison professes: everyone is an island. Gretchen heartbreakingly raps 'My peace is gone'. It's the wonderful Astrid Endruweit, who translates the monologue into gestures, or transforms Gretchen with a Japanese accent into a salacious manga figure. We're happy to follow Laub in sadly comical scenes like these, recognising that the piece draws on his everyday reality between Berlin and Cambodia, between film, theatre and animism.


Peter Jarolin, Kurier, 16.7.2017
The Kernel of the Brute is as Light as a Feather

Fassbinder, Faust and the Animists, by Michael Laub, at ImPulsTanz in the Akademietheater


What a godsend of an evening! Homages to the great director and berserker Rainer Werner Fassbinder are rarely so light, so self-ironic, so intense, so clever and so completely over the top. For what the Belgian choreographer, director, theatre-maker and grand master of post-dramatic theatre Michael Laub stages in Fassbinder, Faust and the Animists evades all categorisation. And that's exactly why it's so good!
Yes, Laub slaves away at Fassbinder's cult film Beware of a Holy Whore with his sensational 17-strong ensemble on an empty white video-wall stage. But also at Goethe's Faust, at animism – that is the idea that nature is ensouled,
– at the Madison dance so popular in the 1950s and 60s. The result is a virtuosic and impressive interconnection of film, theatre, dance, literature, comic, manga, yoga and an excessive display of costumes.

Playing with acting

Fassbinder's original film can be seen from time to time on the screen. On the stage individual scenes are imitated, commented on, caricatured and – if there's nothing more to be done – simple danced over into merriment. For the troupe, who with Fassbinder is a film crew, is thrown back on its own existence with Laub. Auditions for the project are repeatedly inserted. Yoga is practised to Leonard Cohen's 'So Long, Marianne' until the class cinematically takes off. One deadpan performance, on the other hand, laconically delineates the fate of Gretchen, whose big monologue ('My peace is gone …') is interpreted as a Japanese schoolgirl porno. The marvellous 1970s costumes are changed at breakneck speed. All the performers play Fassbinder characters, imitating them, exhibiting them, but at the same time always remaining themselves, and thus ruthless self-exploiters in a positive sense.

Playing with being

Hanna Schygulla, Lou Castel, Eddie Constantine and of course Rainer Werner Fassbinder himself are omnipresent, and endlessly moving in their sometimes helpless sadness. What is art? Why do we do it? Who's sleeping with whom? And how many Cuba Libres are enough? Laub's ensemble plays furiously with attitudes and expectations, disappointments and deceptions and dreams – and if it gets too emotional, it can be danced off. A short but helpful camouflage in the life of the artistic personality.
For Michael Laub and his Remote Control Productions are concerned with no less than the permanent questioning of the artistic and personal creative process. Only it is portrayed so lightly, so blithely and with such charm.
What does it all have to do with Goethe's Faust? A great deal, in fact! Because on their own account this troupe can't afford a real brute of a poodle. But this performance certainly gets to the core of things. Fassbinder, Goethe and animism – this is no contradiction, but a beguiling unity.


Apa, Salzburger Nachrichten, 15.7.2017
ImPulsTanz: Michael Laub Screws Faust to Fassbinder

It can't get any more retro than this: it begins with Goethe's Faust and ends with Fassbinder's Beware of a Holy Whore, from 1970 [sic.].

In between, Leonard Cohen's 'So Long, Marianne' is sung and the Madison is danced. Michael Laub's Fassbinder, Faust and the Animists received its Austrian premiere at the ImPulsTanz festival in the Akademietheater.

It is a daring collage that the Belgian director and choreographer stages in two hours with no less than 17 performers. With nonchalant casualness and in flash-like scenes it links the aspiration of Faust with the mania of Fassbinder, crosses Gretchen with Hanna Schygulla and takes on the eternal question of spirituality and community. The latter in Cambodia – where the 64-year-old choreographer has realised many works – in still very popular line-dance choreographies. The colourful troupe repeatedly comes together in these, only to fall apart again abruptly.

Animism is also dealt with, the idea that nature has a soul. For Laub it is the soul of the film in which Fassbinder worked through the collapse of his group Antitheater during the shooting of his previous film, Whitey.

The dominant forms of this often hilariously funny evening are doublings, hard cuts and the play of fiction and reality. The stage background is a huge white screen on which not only concrete excerpts from the film but also their cinematic imitations are cut in. And in the front they are re-enacted, varied, and rejected with delightful brio.

The viewer soon has to abandon hope of seeing through everything, grasping every allusion and distinguishing copy from original, and instead get into the many wacky images evoked at a tearing pace by the ensemble in their 1970s outfits.

Those who aren't performing hang around apathetically at the edge of the stage on plastic chairs. Short summaries of events are reeled of with emphatic listlessness through a microphone. One highlight, for example, is when the New Yorker Maxwell Cosmo Cramer, his long hair falling into his face, his body slack, his voice toneless, gives a précis of Gretchen's fate while Astrid Endruweit depicts her character's emotions in fast motion wearing a blonde-plaited wig.

This is followed by a further highlight in a double sense, when Endruweit announces her intention of giving Gretchen's monologue ('My peace is gone …') in the manner of a Japanese schoolgirl porno. More parody (of everything) is impossible, and the audience applauds the scene gladly.

And otherwise? The blonde director (Florian Lenz) rampages through the scenes and drags his crew into a downward spiral which the group choreographies can no longer contain. What remains in the end is an image of economic pressure (to complete the film in the most unfavourable of circumstances), sexual violence and claims to power within an eroding community. Long applause.